There's nothing quite like eating on an airplane, at least as long as you're not eating airline food. Three years ago I was able to eat dinner inside a retired Delta L-1011 at Delta's museum in Atlata.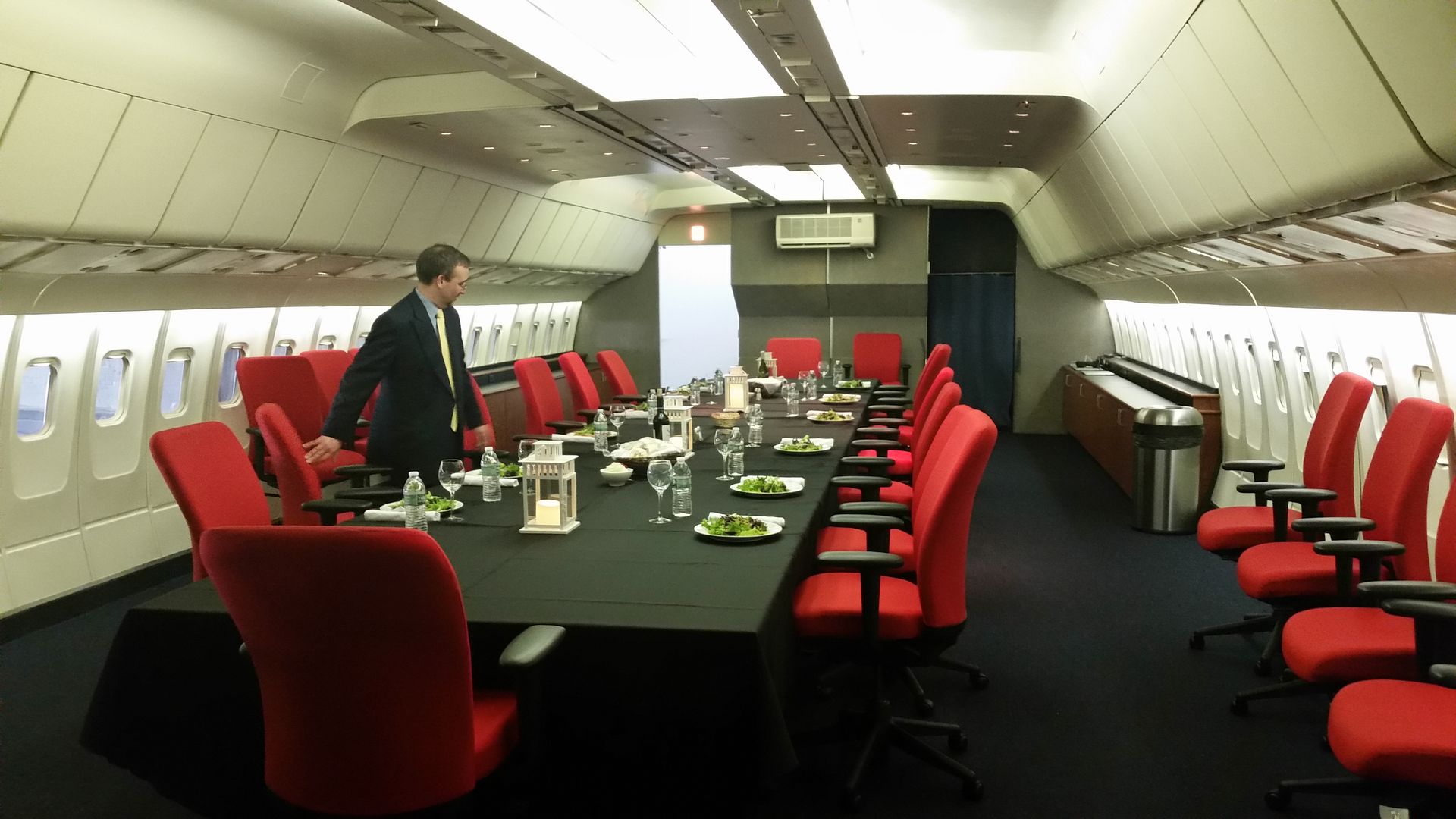 A much smaller but more enduring aircraft, American American was instrumental in the launch of one of the Douglas DC-3 in the 1930's. And now it's possible to eat food prepared in one.
American's Chairman C.R. Smith badgered and cajoled Donald Douglas into developing a stretched successor to the DC-2.
American didn't have access to the cash required to fund the 20 aircraft they wanted to order, so Smith went to fellow Texan Jesse Jones who was in charge of the Roosevelt administration's Reconstruction Finance Corporation for a government backed loan. Smith was close to the Roosevelts and served as son Elliott Roosevelt's best man.
American Airlines operated simultaneous inaugural flights for the aircraft on June 26, 1936, with departures from Newark and Chicago.
Just over 600 DC-3s were ultimately produced (although more than 10,000 military versions were built, and another 5000 under license by the Soviet Union). During World War II the Douglas production facility in Long Beach was camouflaged to look like a town to protect it from becoming a bombing target.
The aircraft had an incredibly long shelf life. Over 400 were still in commercial service after 50 years. It was known as a great plane on short and rough runways. And it's still flying today such as for Canada's Buffalo Airways.
American Airlines and Tomorrow's Aeronautical Museum unveiled a DC-3 food truck last week. The fuselage used was from a military version of the aircraft that served in combat during World War II. The truck will be a fundraising vehicle for the museum's educational programs, working with over 5000 kids in Compton in South Los Angeles.
The truck is named the "DC-3 Gourmet," and has "Flagship Compton" written on the side. Funding came from American's local Los Angeles giving arm ("Regional Council"). The aircraft came out of a Nevada boneyard, and they "transported the fuselage, cut out the bottom and connected it to a trailer."

Credit: American Airlines
It now functions as a full kitchen with cook top, grill, stove, deep fryer, and pizza oven. The cockpit is intact, and is now a special place to eat. Celebrity cooks will be invited to be guest chefs, but it will also have a regular menu including "Chilean seabass, lobster tail and ribeye."

American Airlines
The meals prepared inside of this DC-3 will certainly be better than what passengers were able to snack on during their transcon journeys in the 1930s.