I receive compensation for content and many links on this blog. You don't have to use these links, but I am grateful to you if you do. American Express, Citibank, Chase, Capital One and other banks are advertising partners of this site. Any opinions expressed in this post are my own, and have not been reviewed, approved, or endorsed by my advertising partners. I do not write about all credit cards that are available -- instead focusing on miles, points, and cash back (and currencies that can be converted into the same).
---
Reader Michael asks whether The World of Hyatt Credit Card is subject to Chase's '5/24' rule, in other words whether it's possible to get approved for the card if he's had 5 or more new credit card accounts in the last 24 months. It is possible, '5/24' doesn't apply… yet, according to Chase President of Co-brand cards Leslie Gillin who suggests they plan for 5/24 to eventually apply not just to this card but to all of their cards.
If you're interested in The World of Hyatt Credit Card it's a good idea to get it soon. And you should be interested if you like quality hotel stays.

Park Hyatt Hadahaa, Maldives
New Hyatt Card's Features
There's a limited-time offer of up to 60,000 points with this card. You earn 40,000 points after $3000 in spend on purchases in the first 3 months from account open and an additional 20,000 points if you spend $6000 total within the first 6 months.
And 60,000 points is enough for 2 free nights at any Hyatt hotel except for all-inclusive Miraval. (Or 12 nights at category 1 properties.)
The card earns:

4 points per dollar Hyatt spend

2 points per dollar restaurants; airline tickets purchased through the airline; fitness club and gym memberships; local transit and commuting including ride share services

1 point per dollar other purchases
And you get both a free category 1-4 night each year at card renewal and an additional free night at a category 1-4 Hyatt property after spending $15,000 in a cardmember anniversary year. That makes putting $15,000 annual spend on the card attractive.
But the real winner here is help towards elite status. The card comes with 5 elite nights each year. Then each $5000 spent on the card earns 2 more elite nights.

Globalist Room Service Breakfast, Park Hyatt Vendome Paris
Why Michael Wants This Card
Michael wanted to know if he was eligible for the card because he's "prepping for the days that Marriott kills the 3k/elite night and I have to switch my allegiance."
Under the new Marriott program cardmembers are capped at earning 15 elite night credits. The premium card can earn 50 night status with spend alone, but those aren't nights that help towards 75 or 100 night status. Having multiple cards won't stack the night credits that come with each.
On the other hand,
Hyatt has the most lucrative top elite tier

They'll now let you earn that status with credit card spending alone, with the introduction of this card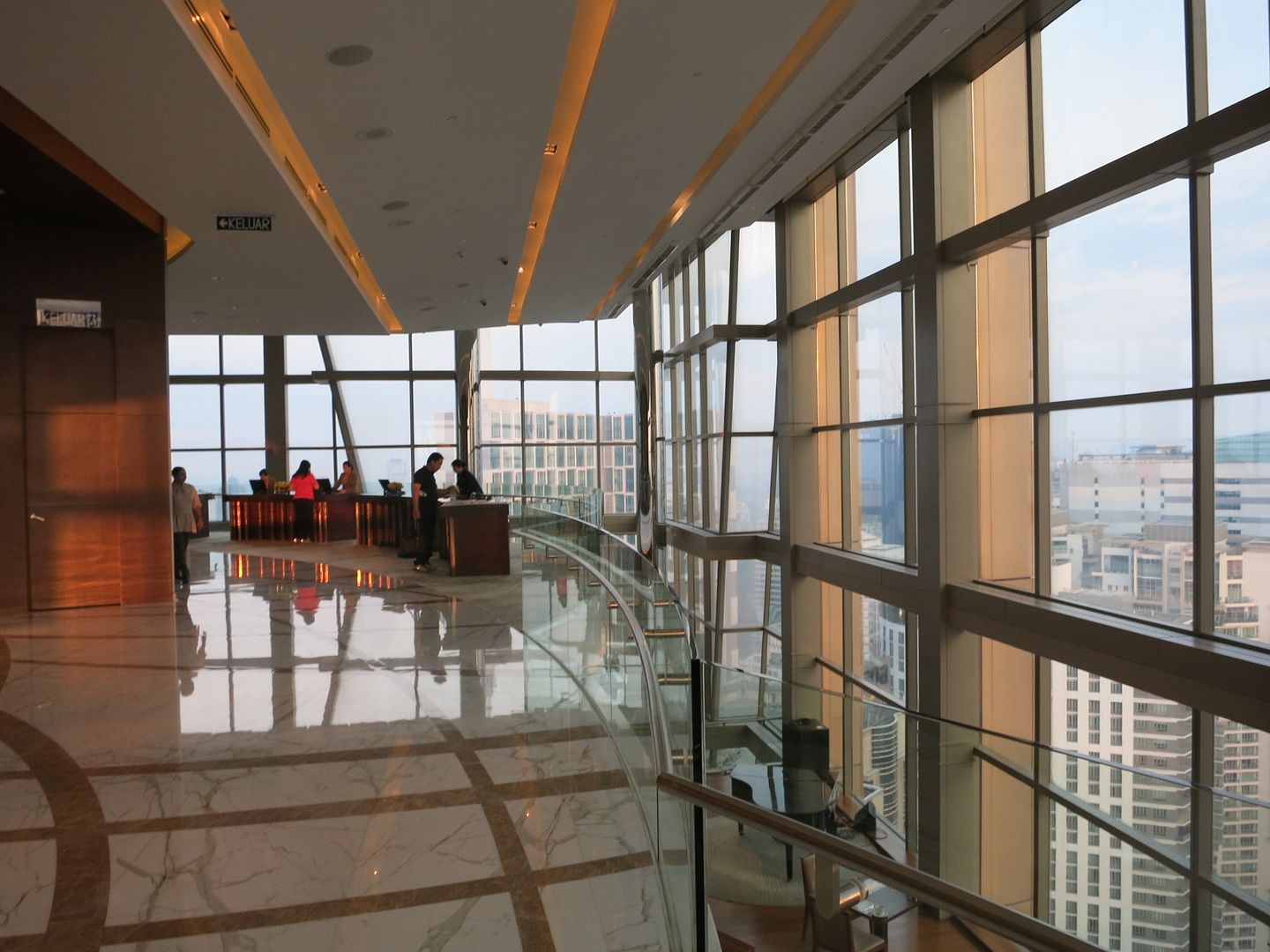 Category 3 Grand Hyatt Kuala Lumpur
Hyatt's Top Elite Tier Gets You Suites and Other Benefits
I've been top tier with Hyatt for about a decade because they offer richer benefits that I care about than other chains, and I generally like their properties.
Globalist (top tier elite) members get,
Best available room at check-in, including standard suites

Club lounge access at properties with lounges

4 suite upgrades (for up to 7 nights each) confirmed at booking

Full breakfast at properties without club lounges (not just continental breakfast like other chains offer)

A dedicated reservations representative to handle all of your Hyatt needs ('My Hyatt Concierge'), I don't have to call to reserve suites, make complicated bookings, or follow up with properties.

Club Lounge Outdoor Deck, Grand Hyatt New York
Earning Top Status With the Credit Card
Hyatt requires 60 elite nights to earn top elite status, and 55 nights to renew that status. You receive 5 nights just for having the card and 2 more nights for each $5000 spent on the card.
As a result if you don't have even a single Hyatt night, then you need to spend:

$140,000 on the card in a year to earn Globalist status for the first time

$125,000 on the card in a year to renew Globalist status
More realistically if you have 30 hotel nights that you can give to Hyatt in a year, getting the card brings you to 35 and then $65,000 spend in a year would get you to Globalist the first time and in the future $50,000 spend would get you there.
Whatever spend you put on the card is spend you aren't putting on a different card. But the rewards from this card, combined with the rewards earned with Hyatt status, are lucrative enough that I think spending towards status can make sense for those in a position to do so.

Evening Cocktails and Snacks for Globalists at the Park Hyatt Tokyo
All the Lucrative Rewards From Spending for Status
In the first year you can earn a 60,000 point initial bonus. At cardmember renewal you receive a category 1-4 night. And spending $15,000 on the card each year earns a category 1-4 night.
And earning for your spending on the card has become more rewarding, with more points for Hyatt stays and better double points categories.
But since can earn elite status for your spending, and each elite level comes with free nights as well, your spending gets even more rewarding.
If you spend enough on the card, combined with actual nights that you stay, in order to earn the initial bonus as well as Hyatt's Globalist status you'll receive:
60,000 point initial bonus (worth 2-12 nights depending on where you redeem)

Points for your spending

Category 1-4 night at $15,000 spend

Category 1-4 night when you hit 30 elite nights in the Hyatt program (Explorist)

Category 1-4 night at annual card renewal

Category 1-7 night when you hit 60 elite nights in the Hyatt program (Globalist)

4 suite upgrades that allow you to confirm a suite at time of booking for up to 7 nights if a standard suite is available (Globalist)

2 United club passes (Globalist)

Club lounge at the Grand Hyatt Singapore
That's a lot of return for your spending.
The World of Hyatt Credit Card