I receive compensation for content and many links on this blog. You don't have to use these links, but I am grateful to you if you do. American Express, Citibank, Chase, Capital One and other banks are advertising partners of this site. Any opinions expressed in this post are my own, and have not been reviewed, approved, or endorsed by my advertising partners. I do not write about all credit cards that are available -- instead focusing on miles, points, and cash back (and currencies that can be converted into the same).
---
The World Of Hyatt Credit Card
When Hyatt re-launched their loyalty program last year, their credit card was no longer useful for earning top tier elite status. And since Hyatt is a Chase transfer partner, it was no longer the most rewarding card for spending at Hyatt's hotels, even. Both of those problems change today.
I am a current Hyatt credit card customer, although recently I haven't been spending on the card. I am going to upgrade to this new card, and I plan to put a lot of spending on it.

Looking Out Over the Grand Hyatt Hong Kong
Hyatt is Gradually Tackling Each of the Pain Points in World of Hyatt
Chase and Hyatt re-upped their partnership, and talked about changes coming to the product. That was a year ago. It's taken time, I imagine because Hyatt changed leadership of its loyalty program.
Since the new loyalty leadership took over they've addressed several of the pain points in the new program.

Now they've made huge improvements to their credit card, coming out with a new improved product. This is not a change to the current card. Instead it's a new card. Existing Hyatt cardmembers have an offer to upgrade to the new card (2000 points), and the new $95 annual fee card is the only one available for new applications.

Park Hyatt Hadahaa, Maldives
Improved Initial Bonus
There's a limited-time offer of up to 60,000 points with this card. You earn 40,000 points after $3000 in spend on purchases in the first 3 months from account open and an additional 20,000 points if you spend $6000 total within the first 6 months.
It sounds like the 'limited time' portion of this offer is that additional 20,000 points.
And 60,000 points is enough for 2 free nights at any Hyatt hotel except for all-inclusive Miraval. (Or 12 nights at category 1 properties.)
The legacy card had been offering a bonus to earn just 40,000 points total. And prior to that it was two free nights. I prefer the points at the 60,000 level:

Free nights had to be redeemed within a year, points can be redeemed any time

Points are more divisible. Use 60,000 for up to 12 free (category 1) nights rather than limiting you to 2 nights

Points can be used for cash and points awards or for suites

Points reservations can officially be gifted, while free night awards were for the cardmember only.

Points can be transferred to someone else for free.

Park Hyatt Chennai
Better Points-Earning
Here's the earning structure for this new card.
4 points per dollar Hyatt spend

2 points per dollar restaurants; airline tickets purchased through the airline; fitness club and gym memberships; local transit and commuting including ride share services

1 point per dollar other purchases
The old card earned 3 points per dollar with Hyatt, at 4 points I'll use the Hyatt card for Hyatt spend.
They're dropping double points on rental cars, but adding fitness memberships (and this includes class passes) and rideshare. There are a couple of things interesting here. The fitness category is one that:
Dovetails nicely with Hyatt's 'wellness' narrative and their acquisition of Exhale Spas and Miraval resorts

Are 'set it and forget it' recurring charge categories. They want you to use the card for recurring payments because it's a pain to change those, if you set those up you're more likely to keep using the card each month.

Andaz 5th Avenue
Card issuers need to find a way (API) to auto-populate Netflix, Amazon, Uber, Postmates and Seamless, and other must have services where no one wants to change their billing information.
In the absence of that they need to bonus customers for making a transaction with those services. Get people to add the card to Uber so they may pay with the card. It's adding the payment method to the account that's the stopper for consumers.
By the way the card has no foreign transaction fees so you can use it abroad without penalty, and points don't expire as long as the credit card account remains open. Of course if you get the card you'll probably use it at least once every 2 years or stay with Hyatt and earn points during that timeframe anyway.
More Free Nights
The legacy card offered a free night each anniversary year for a category 1-4 Hyatt property. Most Hyatts fall in those categories.
I used to hate to use the free night because it didn't earn elite credit, and top elite status was harder than ever to learn. The program now counts these award stays towards elite qualifying nights, and this card makes earning status easier too. So I've gone from hating the free nights to loving them.
In addition to the annual free night, this new card also will give you an additional free night at a category 1-4 Hyatt property after spending $15,000 in a cardmember anniversary year. That makes putting $15,000 annual spend on the card attractive.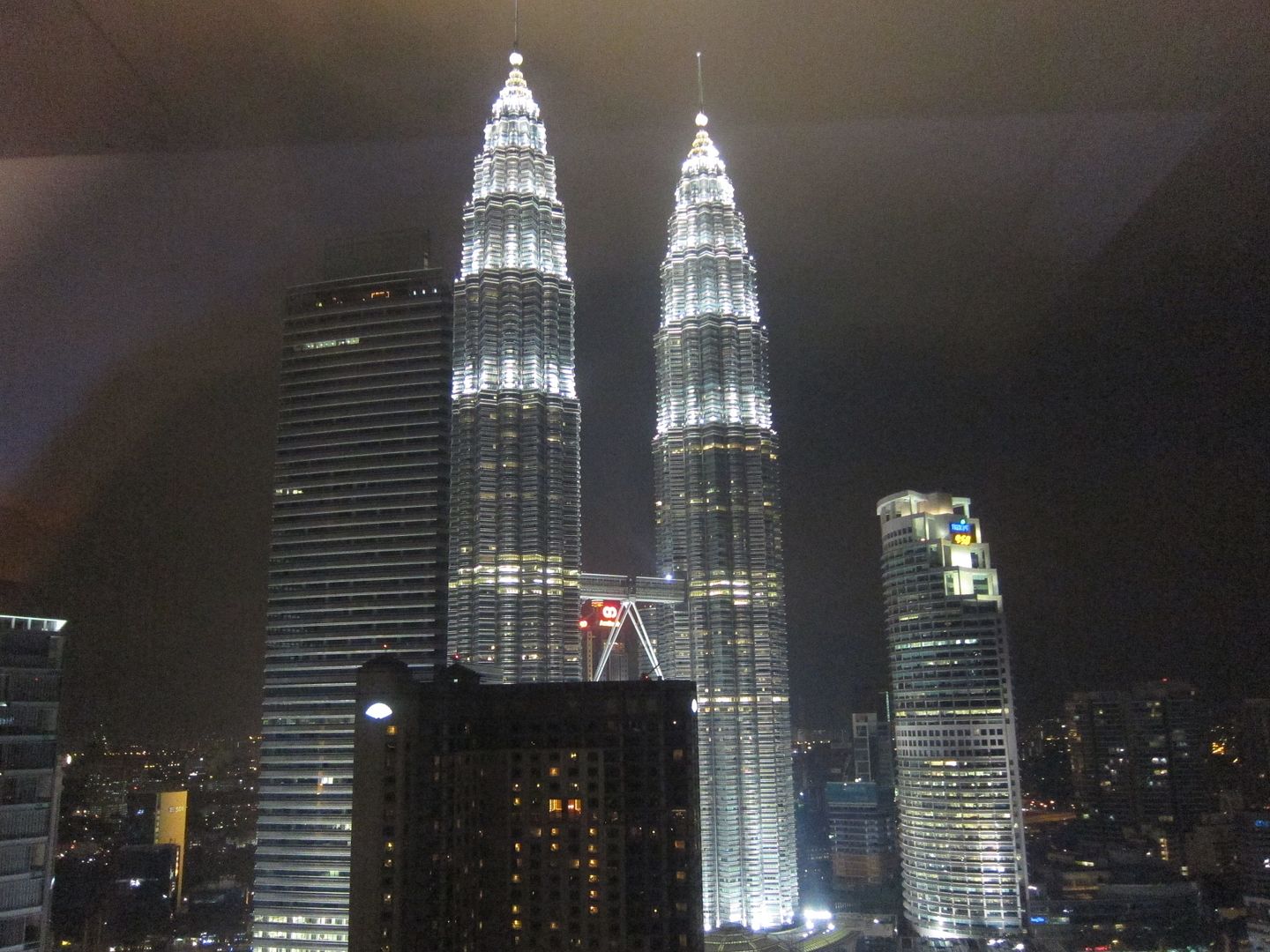 View of the Petronas Towers from the Category 3 Grand Hyatt Kuala Lumpur
Spend For Status
Cardmembers receive automatic Discoverist status (first tier elite), which also matches to status in MGM's M life Rewards program. But that's not really what I'm interested in. This card makes earning upper tier status much easier.
The old legacy card used to let you earn up to 10 elite nights (or 5 stays) per year after $40,000 spend. That went away with the World of Hyatt program transition.
This new card gives you 5 elite nights every year just for having the card. In addition you earn 2 elite qualifying nights for every $5,000 spent on the card.
There is no cap to the number of elite nights you can earn. You could earn Globalist (top tier elite) with nothing but credit card spend. An existing Globalist renews their status with 55 nights, 5 of which come with the card. Assuming they earn 2 nights with 2 category 1-4 free nights they'd need 48 more nights or $120,000 in spend on the card.
And remember that earning Globalist gets you,

Best available room at check-in, including standard suites

Club lounge access at properties with lounges

4 suite upgrades (for up to 7 nights each) confirmed at booking

Full breakfast at properties without club lounges (not just continental breakfast like other chains offer)

A dedicated reservations representative to handle all of your Hyatt needs ('My Hyatt Concierge')

Park Hyatt Vendome, Paris
Of course very few people are going to look to the card for all the nights they need. But the point here is that they could.
And bear in mind that Hyatt awards a category 1-7 free night after 60 elite nights, and awards an additional (choice of) confirmed suite or 10,000 points at each of 70, 80, 90, and 100 nights so spend on this card helps towards those thresholds too.
Worth noting that if you convert an older Hyatt card to this new product that spend you made on the prior card does not count towards either the free category 1-4 night or for earning elite nights. I'm told as well that spend for earning elite nights is based on the actual purchase date not statement close date so you should have through the end of December to earn elite nights on the card through spend each year.
Scenarios Where This Card Makes a Lot of Sense
I've been a Hyatt cardmember for several years. I used to put $40,000 spend on it each year to earn 10 elite nights (and 5 stays) towards status. When Hyatt stopped allowing credit card spend to help earn top tier elite status, I stopped spending on the card.
This is a very good card for people who like Hyatts. It's not the all purpose travel rewards killer app for everyone. If you want Hyatt status, you can earn it on credit card spend alone. And this card makes it possible to top off towards status.
Hyatt has the strongest top elite tier in hotel loyalty, if their hotels work for you. Their mid-tiers aren't as strong. One strategy would be for them to improve the mid-tiers. They've done something almost as good. They've made it possible for mid-tier elites to become top tier elites.
Since you get a free night night up to category 4 after $15,000 spend [in addition to the free night you receive at cardmember renewal], that's like 15,000 Hyatt points that expire if unused within a year. But it's an extra point per dollar spent. If you're earning 4 points per dollar (all Hyatt spend) that's like earning 5 points per dollar. If you're earning 2 points per dollar, that's like earning 3 points per dollar. Spending $15,000 on this card makes a lot of sense, plus will earn 6 additional elite nights towards status.

Andaz Papagayo Costa Rica
If you're sitting at 68 elite nights for the year, remember that hitting 70 nights earns you your choice of an additional confirmed suite upgrade or 10,000 points. You have the same option at 80, 90, and 100 nights. Spending $5000 to earn 2 elite nights, and earn 10,000 bonus points, means you've earned a minimum or 3 points per dollar on all that spend, though possibly more if the spending was in bonus categories.
The choice for bonus points at higher qualification tiers shows that spend on this card can be lucrative under certain situations. So does the annual free night for $15,000 spend.
It's a good card for earning rewards, and a great card if you want elite qualfying nights to earn Hyatt status.
Going From the Current Card to the New Card
The original Hyatt card was introduced in September 2010. It was intriguing at the time. But the market has changed a lot since then.
In 2018 the card was no longer the most lucrative one to use even at Hyatt hotels, and it no longer helped its most engaged (top tier elite) customers earn status.
They've solved both of those problems with this new card, and they've made it attractive to spend and keep spending for Hyatt status while being rewarded with free nights and points along the way.
Chase's President of Co-brand cards suggested that 5/24 will not apply to this card right away, although we might expect to see it in the future.
Existing Hyatt cardmembers cannot be approved for this card. You can request to upgrade an existing Hyatt card and receive 2000 bonus points. Or if you aren't a current cardmember (and haven't received a bonus in 24 months) you could apply anew and be eligible for the card's lucrative initial bonus offer. (The new card has a $20 higher annual fee but is much richer, if you're going to do anything other than keep it for the annual category 1-4 free night at renewal it seems worth upgrading.)
I'm definitely upgrading my card to the new product. Anyone interested in Hyatt should get it — especially now while '5/24' limits on getting approved shouldn't yet apply.
The World Of Hyatt Credit Card