In my view United has been exceptionally slow to roll out their new business class Polaris seats. It's been nearly two years since they announced the product. It's been fourteen months since the product took flight.
And while new widebody aircraft deliveries have had it, they've put only 5 reconfigured planes into service so far.
That's especially a problem because of how loudly promoted United Polaris has been. Customers have insisted to me for the last year and a half that they were going to have United's new seats because their United confirmations said 'Polaris'. That's just the new name for United long haul business class, though. They got the old seats.
Finally though there's progress on beginning to retrofit United's fleet of Boeing 777-200s. They're starting with the old legacy United planes that have international first class and eight-across ("dorm style") business class.
One Mile at a Time points out that the first United Boeing 777-200 is on its way back from Xiamen, China where Polaris reconfiguration work takes place.
Lucky notes that 3 more 777s are being converted as well. In fact registration N796UA landed in Xiamen on Tuesday. N787UA arrived there today.
These planes go from offering 8 first class, 40 business class, and 221 economy seats to 50 business class seats and 242 economy seats.
The number of business class and even premium seats goes up

The number of coach seats goes up because they're going from nine-abreast seating like Delta to ten-abreast seating like American. You don't want to be in economy on these planes.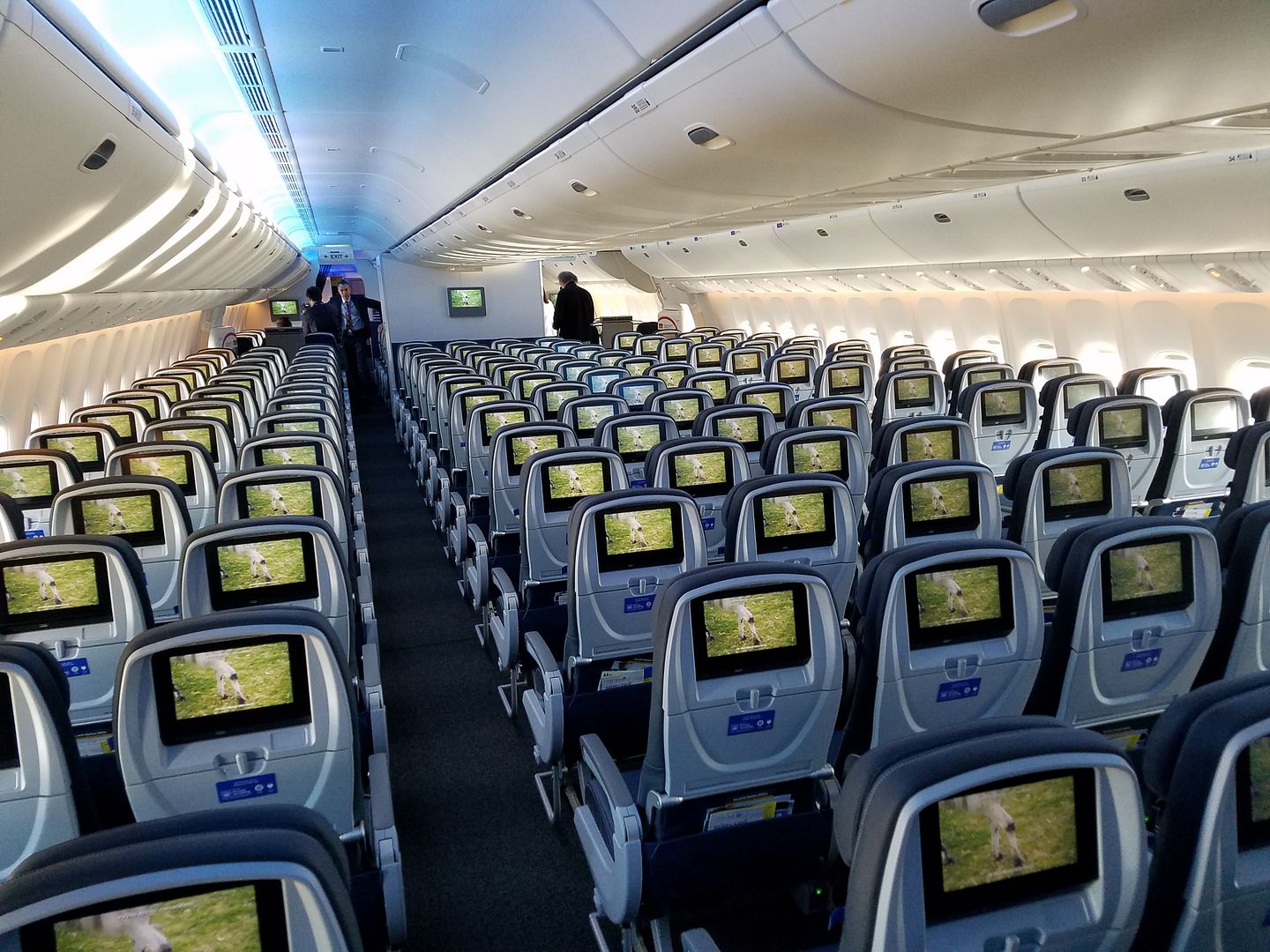 The real innovation in Polaris seating isn't that it's an industry-leading product. It isn't. It gets them fully flat direct aisle access seats without taking up more space. That allows them to retain a dense business class cabin which isn't quite as good as what American or Delta offers, but that closes the gap enough so you don't go out of your way to avoid United. And in the long run it should be great for upgrades and awards.
Notably United is increasing the number of business class seats they're offering while American is removing business class seats.
Back in February I wrote that American is reducing the number of business class seats on some Boeing 777-200s so that all have 37 business seats. They are on a push to simplify the fleet, and to have fewer subfleets. So the 13 aircraft that have 45 Zodiac 'Concept D' seats are going to have 8 business seats taken out as part of adding in premium economy.
Meanwhile I noted in February that they'd probably remove business class seats from their Boeing 787-8s to accommodate premium economy. Those currently have 28 business seats: 20 in the forward section of the plane and 8 in a rear mini cabin. It was confirmed to me last week that premium economy will take over the current business class mini-cabin.
As I've often said the best award or upgrade is the one you can get.