I receive compensation for many links on this blog. You don't have to use these links, but I am grateful to you if you do. American Express, Citibank, Chase, Capital One and other banks are advertising partners of this site. Any opinions expressed in this post are my own, and have not been reviewed, approved, or endorsed by my advertising partners. I do not write about all credit cards that are available -- instead focusing on miles, points, and cash back (and currencies that can be converted into the same).
---
The TSA announced this morning that 5 more airlines are participating in PreCheck:
Air France

KLM

Brussels Airlines

Philippine Airlines

World Atlantic
'World Atlantic' operates as charter airline Caribbean Sun Airlines out of Miami, and reportedly has held US federal contracts to deport illegal immigrants.
That brings the total of airlines where you can fly while using expedited security to 47. Here are the other 42:
Anything that grows PreCheck is good for wait times and good for passengers who are able to get out of queues more quickly and without giving a peep show to a TSA employee in a booth.
Make Sure You Get the Benefits of PreCheck When You Fly
You'll want to make sure all participating airlines have your Known Traveler Number. Currently-booked tickets aren't going to have your number in the booking. Don't expect your known traveler number to pass through from a US frequent flyer program to international airline partner automatically either. So if you use United miles to book on Brussels Airlines you want to confirm with Brussels that they have the number in your reservation.
Most people update their frequent flyer accounts with their Known Traveler number, but if you're flying without one or using another airline's frequent flyer program, it won't go in automatically either. So make sure each reservation gets the number.
When you check-in for a flight make sure your boarding pass indicates PreCheck. If it doesn't check your Known Traveler number in the reservation and check in again. If your airline doesn't support that, call and get 'unchecked in' and re-check in for an updated boarding pass.
Getting PreCheck and Expedited Immigration
Global Entry is fantastic skipping the immigration and customs queues when you return to the U.S.
I didn't love the fingerprinting or background check that went along with it, but I figured all my cell phone data was being logged anyway long before Edward Snowden was cool. So if the surveillance was inevitable I figured I might as well at least get the convenience.
Now that I have it, it's hard to imagine life without it — and not just queuing up at immigration, but also that I always get PreCheck at TSA now (except when I've been "SSSS'd") rather than having it be hit-or-miss through my airline elite status.
Four programs provide expedited airport security:

Nexus is the cheapest and most comprehensive. It's expedited immigration for Canada, but gets you Global Entry and TSA PreCheck. It's $50. But credit card and other fee credits don't advertise rebating the signup cost. It takes approvals on both the US and Canadian sides and while appointments aren't super-tough to get, it can take 2-4 months to be approved.
Global Entry is expedited immigration. The fee is $100 and comes with TSA PreCheck. It's open to US citizens and permament residents, UK citizens, German citizens and Mexican nationals. UK and German citizens have pre-registration requirements through their home country.
TSA PreCheck is $85 and doesn't come with any border benefits.
Sentri is for US-Mexico land crossings, costs $122.50, and includes Global Entry (and PreCheck).
Most US citizens want Global Entry because it includes PreCheck, for an extra $15 gets expedited immigration (of decreasing importance as immigration kiosks roll out), and it reimbursed by more premium credit cards than PreCheck.
Frequent Canadian visitors should get Nexus, and it's cheaper, but the waits and dual approvals may discourage.
TSA PreCheck is much quicker to get, but if you want Global Entry (my preference) then:
Consider an alternate interview location. When I first signed up for Global Entry I figured I'd do my registration in DC, but I wanted my appointment faster. There were available appointments at New York JFK so I made an appointment there when I could conveniently pass through the airport.
Keep checking for available appointments. People make appointments and cancel them especially close in. The system updates in close to real time. Refresh the appointment times page and you may see dates open up.
Just go in. Many readers report they signed up for an appointment in the future. As long as they were signed up for an appointment at some time, somewhere, they could show up at any enrollment center. And if the enrollment center wasn't busy they could get their interview done on a walk-in basis. There is no guarantee this will work. And some bureaucrats will be less than helpful of course, since they don't have to take you. Often appointments take much less time than scheduled and employees sit around, if they're bored they'll take you.
Maintaining Global Entry and PreCheck
Once you have it you don't want to lose it. When coming into the country be sure to declare chocolates, candy bars, chips, or any various items of sustenance whether open or closed, for personal consumption at the airport or meant as gifts. Even if it's just chocolates off of your flight.
And be sure to keep your profile up to date for instance if you get a new passport.
Expedited Screening Even When PreCheck Lanes are Closed
Whenever I'm at an airport which doesn't offer PreCheck, or PreCheck lanes are closed (like in Philadelphia at 6pm or Miami just because), I still get expedited screening.
You keep your shoes on

Your Freedom Baggie of liquids stay in your bag (but honestly, they do anyway, I don't remember the last time I saw a screener insist you take your liquids out of the bag)

Your laptop is still supposed to come out of your bag

You go through the metal detector, not the nude-o-scope
I still use a laptop bag that's "TSA Approved" and so I just have to unclip the bag rather than taking the laptop out.
Credit Cards That Reimburse Global Entry and PreCheck Application Fees
Credit cards with this benefit generally will reimburse either Global Entry or TSA PreCheck. You use the card to pay your application fee, and the benefit is a statement credit up to $100 (the cost of Global Entry) that you're eligible for once every 5 years.
I have several different cards which include the benefit. I gift the benefit to others as a result. I just let them pay their application fee with my credit card and use the statement credit.
Here are the 20+ credit cards I'm aware of that reimburse Global Entry or TSA PreCheck application fees. Please let me know if there are any others I'm unaware of.
Chase
Chase Sapphire Reserve® gives you the 'up to $100 every 5 years' benefit but it's easy to forget it's there since it takes fifth fiddle to the signup bonus, 3x earning on travel and dining, unlimited Priority Pass, and $300 travel credit.
Ritz-Carlton Rewards Credit Card is a $450 annual fee card chock full of benefits for Ritz-Carlton stays but also other travel, for instance it offers the $100 Visa Infinite companion airfare benefit.
JP Morgan Reserve Card is basically a metal version of the Sapphire Reserve which includes United Club membership upon request for no additional fee, but that's only available for new applications to JP Morgan Private Bank clients (generally $10 million or more assets on deposit)
Citibank
Citi® / AAdvantage® Executive World Elite™ Mastercard® is the premium American Airlines credit card that comes with Admirals Club membership and can help towards elite status. It will cover either Global Entry or PreCheck.
Citi Prestige Card is Citi's premium rewards card. Its application page mentions only Global Entry but in practice PreCheck is reimbursed as well.
Expedia®+ Voyager Card is a $95 annual fee card that reimburses these fees, though I am generally not a fan of the Expedia+ Rewards program.
American Express
The Platinum Card® from American Express is probably the single best card for travel benefits, offering a $200 airline fee credit; up to $200 in annual Uber credits; Hilton and Starwood Gold status (the latter matching to Marriott Gold) and National Car Rental Executive status; plus access to American Express' own lounges, Delta lounges when flying Delta, and a Priority Pass for additional airport lounge access. It offers the $100 Global Entry or TSA PreCheck reimbursement benefit.
The Business Platinum® Card from American Express OPEN like the personal version of the card it comes with the Global Entry or PreCheck reimbursement. It has the other travel benefits of the personal card except the Uber credits, though it offers 10 annual Gogo inflight internet passes and has a lower annual fee ($450 vs $550 for the personal card).
American Express Centurion Card cannot be applied for directly, comes with both a significant upfront initiation fee and annual fee, and is basically a Platinum card plus Delta status, more benefits on Fine Hotels and Resorts hotel stays, and occasional retail gifts.
American Express Business Centurion Card is like the personal Black Card but anecdotally doesn't receive the same retail gifts.
In addition the American Express Corporate Platinum and American Express Corporate Centurion cards include this benefit.
US Bank
US Bank Altitude Reserve Visa Infinite Card is US Bank's entry into the premium rewards game.
US Bank FlexPerks® Gold American Express® Card with an $85 annual fee has the lowest annual fee among those rebating Global Entry or PreCheck application fees.
Suntrust
SunTrust Travel Rewards Credit Card is the only $0 annual fee the first year (then $89) card which offers this credit.
Barclaycard Products
Barclaycard AAdvantage Aviator Silver is a $195 premium American Airlines reward card. You cannot apply directly for it. Instead it's offered as a product upgrade for Aviator Red cardholders.
Both the Mastercard Black Card and Mastercard Gold Card — whose primary attributes are that they have high annual fees and are made of metal — include Global Entry or TSA PreCheck reimbursement.
Bank of America
Bank of America® Premium Rewards® Credit Card is a Chase Sapphire Preferred Card competitor masquerading as a premium travel rewards card like Sapphire Reserve, but it does include Global Entry or TSA PreCheck reimbursement.
Merrill Lynch Octave Card has a $950, is for Merrill Lynch clients, and I do not believe it has an online application.
Diners Club
Diners Club® Carte Blanche® Corporate Card is included for completeness, it's not a small business card so you're not going to decide on your own to get it.
City National Bank
CNB Crystal Visa Infinite I first covered two and a half years ago, it's a product for wealth management clients of this bank which targets wealthy customers. As a result there are myriad rich benefits, they don't worry so much about the value proposition for the bank of the card itself. It reimburse Global Entry or PreCheck.
Programs That Let You Redeem Points for PreCheck
The TSA PreCheck program has been aggressive working with loyalty programs (and third parties which work with loyalty programs) to allow points to be redeemed for a code that will cover the $85 PreCheck fee.
It's almost never a good deal, you don't get great value for your points doing this. For instance it costs 10,000 United miles which I value at $150 to cover the $85 charge.
Nonetheless if you're points rich and cash poor, or you have a small number of orphan points in an eligible account, these options are worth being aware of.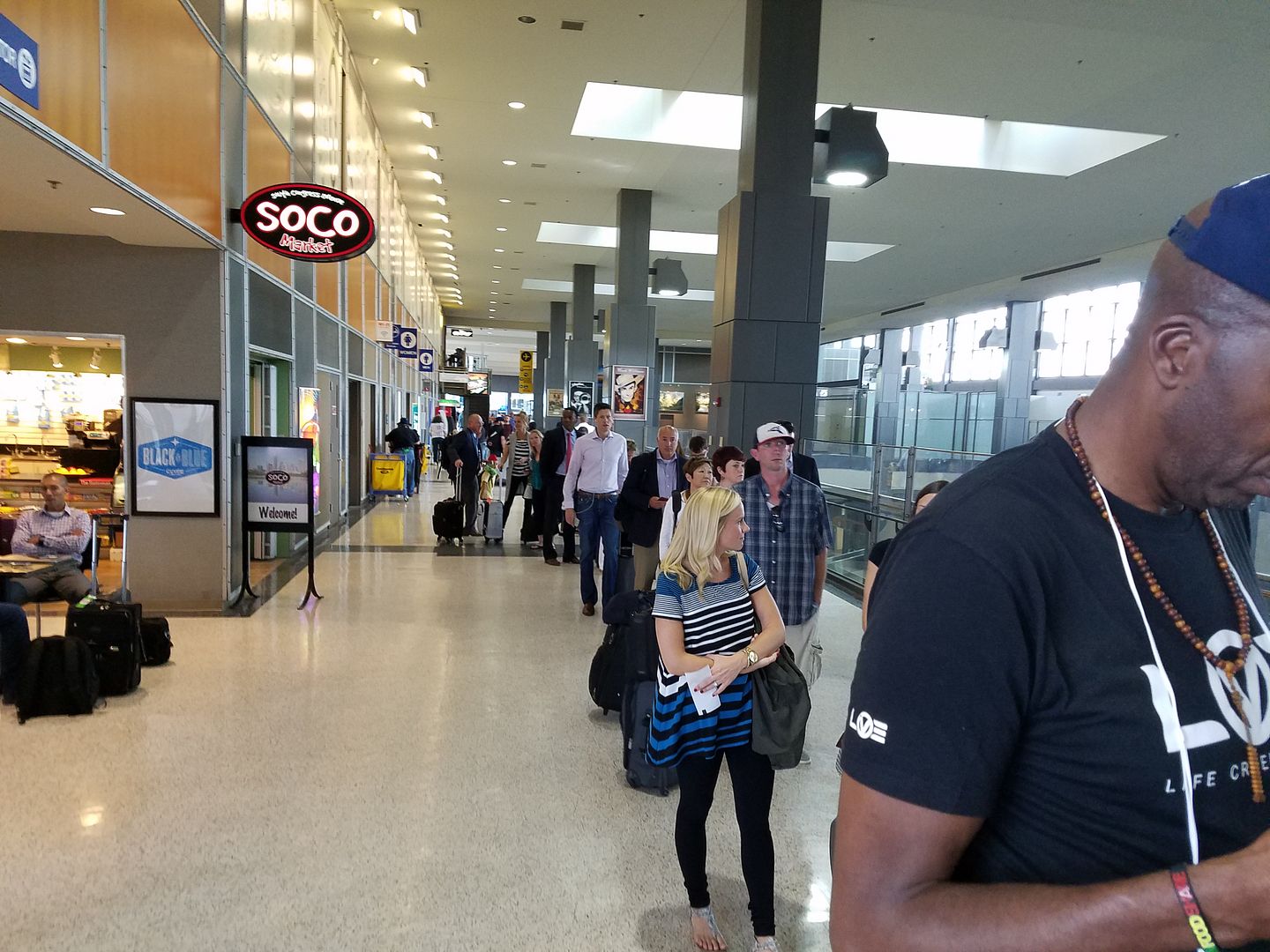 Last summer Southwest announced redeeming 9000 Rapid Rewards points for TSA Pre however I do not see where it's still available.
In addition online travel agency site's Orbitz Rewards program lets its Platinum members (12 hotel nights per year) get TSA Pre. United MileagePlus used to offer this as an elite benefit but stopped three years ago.