I receive compensation for content and many links on this blog. You don't have to use these links, but I am grateful to you if you do. American Express, Citibank, Chase, Capital One and other banks are advertising partners of this site. Any opinions expressed in this post are my own, and have not been reviewed, approved, or endorsed by my advertising partners. I do not write about all credit cards that are available -- instead focusing on miles, points, and cash back (and currencies that can be converted into the same).
---
Since I offer advice on earning frequent flyer miles, often with credit cards and sometimes other financial techniques, I think it's only fair to take an 'open kimono approach' with my own strategies.
And the best way to do that is to share with you my wallet. Because that will shows you what I carry with me through my daily life, and is a great opportunity to explain my thinking about each choice I make — a choice that's constrained by space and so reveals a lot about me.
Here's my wallet:
My wallet just shows what I'm carrying with me right now. I have cards in two other places as well — and I can address those separately. Look closely and you may notice that there are cards sitting behind cards in the wallet, one slot has as many as 4 cards in it.
Allow me to explain why each card sitting in a slot has a slot in my wallet.
Chase Sapphire Reserve
I view this as the best card for road warriors, indeed it's the best card if you're spending $250 or more on travel and dining with the card — in my view the extra points-earning on the card compared to Chase Sapphire Preferred is worth the higher annual fee.

To be sure Chase Sapphire Preferred has the marginally better signup bonus and since it has a $0 annual fee the first year (then $95) it's great for getting started in the hobby, it has low barriers to entry. T

In either case points are among the best you can earn because of their flexibility (transfers to airlines in all 3 alliances and more, plus hotel transfers) and you earn them quickly with a strong signup bonus (50,000 points after $4000 spend within 3 months. Sapphire Reserve earns triple points on all travel and also all dining and comes with my favorite Priority Pass Select package for airport lounge access.
Starwood Preferred Guest Card from American Express

I've carried the Starwood card since 2001, and it remains one of my go-to's for spending that doesn't earn a bonus (that isn't helping me with a signup bonus, a threshold bonus, or a category bonus). Starwood points are the one currency I never have enough of. They're great for hotels, but they really shine for transfers to airline miles.

Starwood has the most 1:1 transfer partners, a built-in bonus of 5000 miles when transferring points to 20,000 miles (which makes the card better for earning American miles than the Citibank American cards, better for earning Delta miles than the Delta American Express, better for earning Alaska miles than the Alaska Airlines Visa). This card is a great way to get some of the best airline currencies like Japan Airlines, Aegean, and Korean Air miles.

Chase Freedom Unlimited paired with either Chase Sapphire Preferred is more valuable in a vacuum but I still want a stash of Starwood points.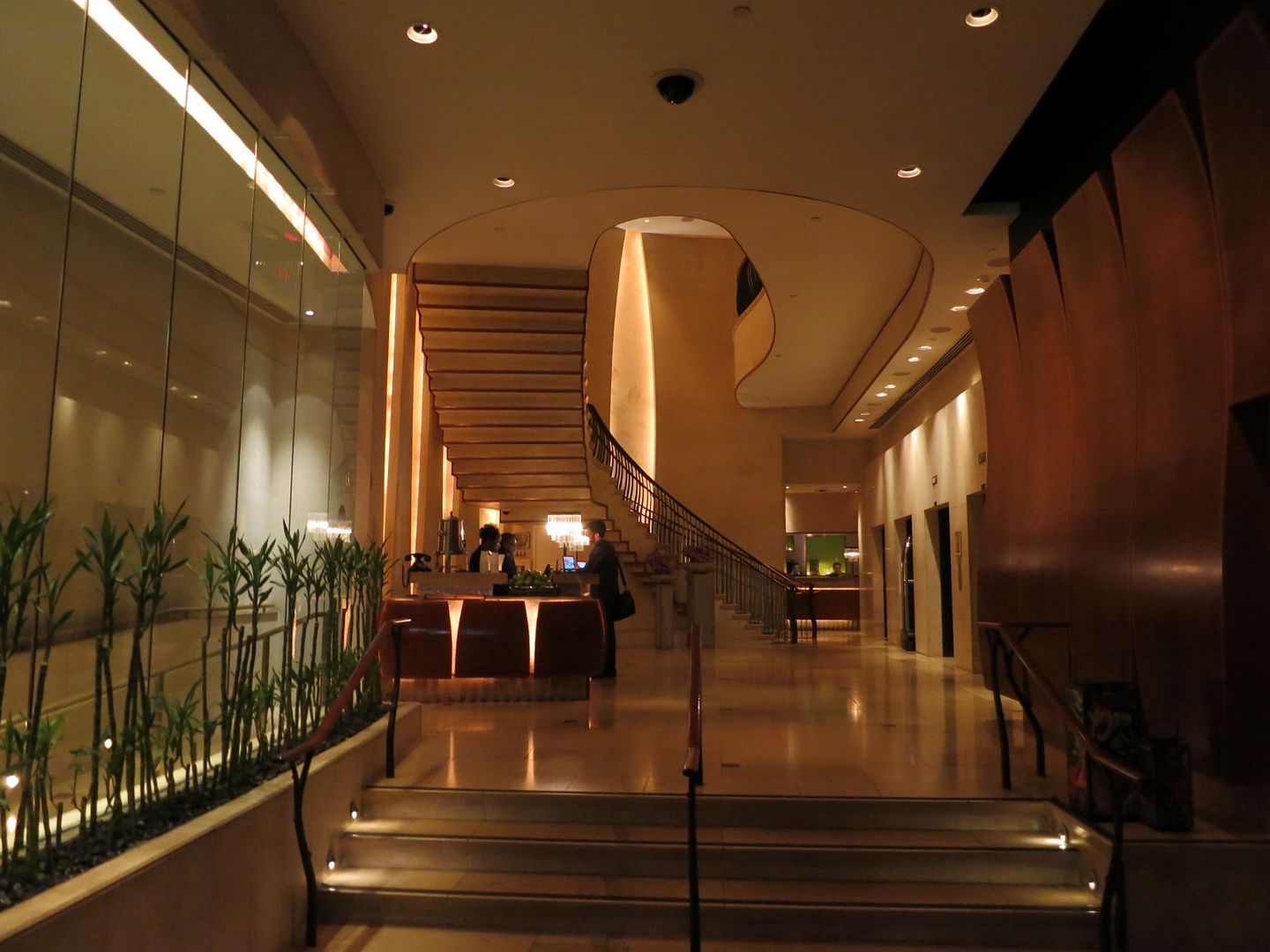 W Union Square
Starwood Preferred Guest Business Card from American Express
The Business version of the Starwood card is arguably better than the personal card, because it comes with club lounge access when staying at Sheraton hotels on eligible rates if you aren't a Starwood Platinum member. For me I have it because it gives me 2 stays and 5 nights towards elite status just like the personal card does, and that's worth a $95 annual fee.
Platinum Card from American Express

I don't use my Platinum card for spending other than for airfare (5 points per dollar spent). It gets me Hilton Honors Gold status and National Car Rental Executive status (I don't need the Starwood Gold status — which matches to Marriott Gold — that it comes with since I have Starwood status anyway.)

The reason I keep it in my wallet, though, is lounge access. If I happen to fly Delta the card gets me into Delta's lounges. I use it most, though, to get into American Express' outstanding Centurion lounges.


American Express Centurion Lounge Dallas.. which like Miami has a complimentary spa
I really only carry this to show to the TSA, and because I'm supposed to have it with me when I'm driving a rental car. At home my wife and I share a car. I'm much more likely to drive a car in a city that's not my own. And yet I'm renting cars less and less with recent travel mostly to major cities and the prevalence of Uber and Lyft.
Security card for my office building, elevator, and suite
This one is pretty self-explanatory.
Priority Pass Select Card. (That's the card sitting behind my office security card.)

Priority Pass developed a separate 'Select' card to offer to banks for their credit card customers, but there's really no difference between Select and the standard product any longer since United Clubs withdrew from the network (bank-issued Priority Pass cards excluded United Club access because Chase had a monopoly over issuing club access to credit card holders).

The card gets me into Alaska Airlines lounges, The Club locations, certain Air France KLM, Korean Air, and Air Canada lounges and many more. Here are the 59 locations at airports in the U.S.. I have a Priority Pass Select from several cards. T

Priority Pass Access to Minute Suites, Philadelphia
Citi / AAdvantage Executive World Elite MasterCard
This card comes with an American Airlines Admirals Club membership, and that's attached to my AAdvantage account. I don't need to carry the card to access American lounges when flying American. Additional cardmembers on the account come with no annual fee, and each can get into Admirals Clubs — with up to two guests — using the card. (One card account can therefore leverage 33 people into a lounge.)

A major reason I have this card is to put $40,000 in spend on it and earn 10,000 elite qualifying miles. My goal is to reduce the amount I have to fly American while still earning top tier status. That way I can earn Executive Platinum almost by chance and still make my purchase decisions based on schedule and price.

Putting Green, American Airlines Admirals Club Austin
Ink Cash Business Card.
Most people only need one annual fee Chase Ultimate Rewards card, e.g. Ink Business Preferred Credit Card or Chase Sapphire Preferred. You can transfer points from the no annual fee cards (that themselves don't permit transfers of points to airline miles) and make the points more valuable.

Ink Cash earns 5 points per dollar in the same categories as the no longer available Ink Plus did, I sue it for office supplies, cable tv and internet, and cell phone bills.
Chase Freedom Unlimited.
This no annual fee cards earns 1.5 points per dollar on all spend. Those points do not transfer to miles. However this is a great card for otherwise-unbonused spend, because you can transfer the points to a Chase Sapphire Preferred and then to miles or points (or used at greater value to buy paid travel through the Ultimate Rewards portal).
Hyatt Credit Card.
I find the card's annual free night for hotels up to category 4 is well worth the $75 annual fee. The card was worth it for the signup bonus, and I used to spend $40,000 on it each year to earn 5 stays and 10 nights towards elite status. I'm not spending on the card right now I just haven't taken it out of my wallet.

Category 4 Andaz Papagayo Costa Rica
American Airlines AAdvantage Aviator Silver Card.
You can't apply for an Aviator Silver card. You have to product change an Aviator Red card. Aviator Silver has a $195 annual fee, and I put $50,000 on the card. At $20,000 you get 5000 elite qualifying miles; at $25,000 you get 3000 elite qualifying dollars (the Aviator Red would do this too); at $30,000 you get a $99+tax companion ticket; at $40,000 you get another 5000 elite qualifying miles; and at $50,000 you get another 3000 elite qualfiying dollars.

By putting $50,000 on this card and $40,000 on the Citi / AAdvantage Executive World Elite MasterCard I earn 20,000 elite qualifying miles and 6000 elite qualifying dollars. I can hit Executive Platinum status with 80,000 qualifying miles and $6000 spent (instead of 100,000 and $12,000).

American Airlines Business Class, Boeing 787-9
I've used a BankDirect checking account since July 2003. It earns 100 American AAdvantage miles for every $1000 average balance each month (no 1099 at the end of the year).

They've added a $12 per month fee that you cannot avoid with a minimum balance and they've capped the earning at 5000 miles per month. But in a low interest environment and since I wind up with big expense reimbursements sitting in a checking account until I pay off my credit card bill, it makes good sense for me.

There's a signup bonus of up to 22,000 miles and they not only don't charge out of network ATM fees, but also offer a rebate of fees that other banks charge you for use of their cash machines.
For completeness my wallet also has a few business cards, a health and dental insurance card, $85 cash, and a couple of American Airlines Business ExtrAA BXP1 upgrade certificates in it.
Ultimately the strategy here is to:
Use cards to access benefits, like lounges, and use spending to earn elite status faster with both airlines and hotels.
Earn as many transferable points as possible. I don't want to earn airline miles as much as points that transfer to a variety of different airline (and hotel) mileage programs. I've got access to seven figure balances with Chase Ultimate Rewards and American Express Membership Rewards already.

Transferable points let me put miles in the right place at the right time for the right award. They're also a hedge against devaluation of airline frequent flyer programs. And earning miles in a portfolio of transferable currencies is a hedge against devaluation of those currencies.