I receive compensation for content and many links on this blog. You don't have to use these links, but I am grateful to you if you do. American Express, Citibank, Chase, Capital One and other banks are advertising partners of this site. Any opinions expressed in this post are my own, and have not been reviewed, approved, or endorsed by my advertising partners. I do not write about all credit cards that are available -- instead focusing on miles, points, and cash back (and currencies that can be converted into the same).
---
Since Marriott successfully acquired Starwood, we're waiting for the new loyalty program that covers all 30 hotel brands.
Marriott is the larger company and has provided a strong rebate for spend at hotels. Starwood has been stronger at in-hotel recognition (suites, 4 p.m. late check-out which Marriott only adopted after the merger, and not excluding brands or resorts from breakfast). Starwood also has had the more rewarding credit card.
Usually in a merger the company will say they're going to 'take the best of both' but that's almost never true. Marriott hasn't had to invest in its loyalty program, growing while carving out benefits exceptions (no breakfasts at Marriott Courtyards, Ritz-Carltons, resorts) and not delivering wow service to top guests. Their footprint was enough to drive stays, while Starwood had to 'work harder'. Meanwhile the merger was described as a way to gain scale and negotiating leverage, that extends to leverage over customers too.
Shortly after the merger I told Marriott CEO Arne Sorenson as much when he asked me why I didn't believe him when he said he wanted to offer the only hotel loyalty program customers would need.
However the loyalty program is key to the new strategy, which is maintaining all 30 brands no matter how much duplication or lack of clarity. Marriott wants to keep all the brands because it's the way to increase management fees from more hotels.
The loyalty program is what ties it all together. Customers won't need to understand the difference between St. Regis and Ritz-Carlton. You go to Marriott.com and book from among the hotels presented to you if the loyalty program is strong enough.

St. Regis Bangkok
Starwood has had one of the best co-brand cards since it was first introduced. I've carried their cobrand since 2001. I still use it today.
Marriott's card has had great signup bonuses (right now 80,000 points after $3000 in spend within the first 3 months of cardmembership and 7500 more points for adding an authorized user to the account and making a purchase within the same timeframe), but has been less rewarding for spend. (offer expired) Earning 1 Starpoint per dollar on unbonused spend is worth a lot more than earning 1 Marriott point per dollar. If this wasn't clear enough from my points valuations, the fact that you can transfer 1 Starpoint to 3 Marriott points should make that pretty obvious.
Beyond figuring out how not to disappoint Starwood customers by introducing suite upgrades across all brands, and how to force Courtyard owners to feed Platinums, the big challenges the company faces are:
IT. Combining member databases and getting hotels onto a common platform is a huge challenge, and Marriott's existing IT had limitations and has involved long lead times in past acquisitions.
Credit card deal. One simple expectation would have been that Marriott survives, Marriott has an exclusive credit card agreement, so the Starwood Amex goes away. But it's not that simple.
American Express doesn't want to lose business. They lost Costco to Citibank and in many ways it plunged their business into chaos and set off dominoes that reverberated around the payments industry as well as travel industry.
American Express quickly re-upped their Delta deal, setting a new bar for price that raised the cost of subsequent deals at United and Southwest (Chase) and American (Citi and Barclaycard). American Express also re-upped Starwood at a new high price.

St. Regis Abu Dhabi
My sense has long been that the Starwood deal is outsized in value relative to size of the chain. In fact, that the Starwood deal is bigger than the Marriott deal even though Marriott is several times the size of Starwood.
Marriott has a job listing for a Vice President, Global Card Program (HT: Doctor of Credit) and there are several interesting things about the position description.
They're happy to have the person base in either New York (StarLab) or Bethesda (Marriott corporate headquarters) though presumably the person would travel back and forth, and of course American Express is in New York and Chase in between the two cities.
Together they have "12 cards in 5 countries with over $55B of card member spend."
This actually suggests to me that the Chase portfolio is even smaller than I thought.
Off the top of my head Starwood has American Express-issued cards in Canada, in Japan, in the UK and there's also a card in the UAE in addition to the U.S. That's five.
And rough back of the envelope, knowing that Starwood was American Express' third largest co-brand after Costco and Delta I've figured the American Express deal to be worth around $800 million a year give or take a few hundred million.
For that to be true though would suggest the Starwood side was accounting for order of magnitude 70% of the card spend, meaning it's probably at least twice the volume as the Marriott co-brand.
With a highly motivated American Express not to lose another deal (they not only lost Costco but also JetBlue and payment processing for Fidelity), and starting with more money on the table, that goes a long way towards assuming we get a new program and a brand new cobrand arrangement rather than just integrating SPG into Marriott Rewards.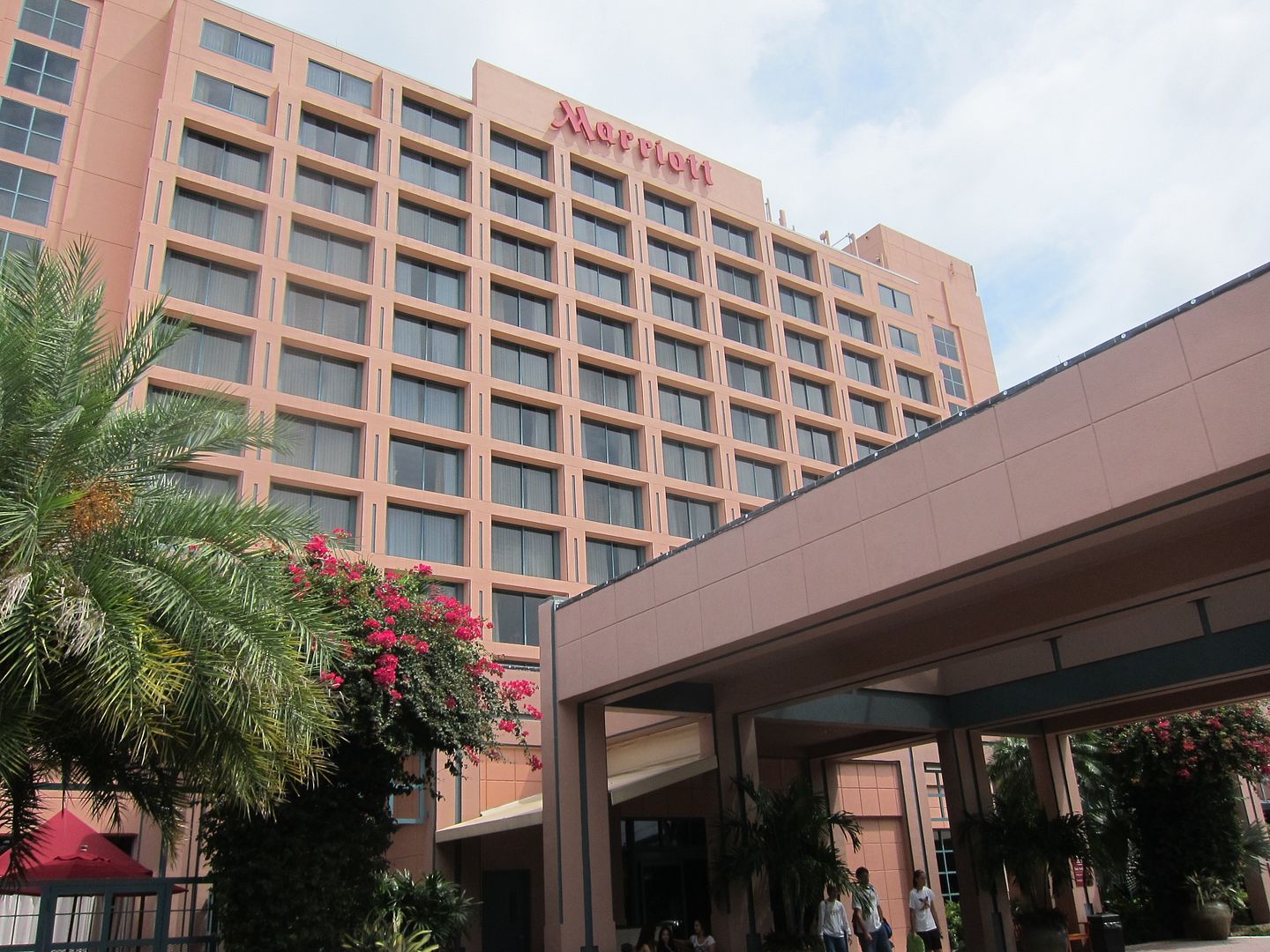 Marriott Boca Raton
We'll get a more expensive deal. And we'll get a card that is more rewarding for everyday spend than the current Marriott card. And I'm getting impatient to see the final outcome of all of this.