There's no question American has degraded the AAdvantage program in the last couple of years. And there's no question that AAdvantage was American's unique selling proposition. They don't have the airline operation that Delta does, or the route network (and award availability) that United has access to through Star Alliance.
Since I've flown American by far the most over the past 6 years I've watched the airline change, and mostly (although not exclusively) in ways I haven't liked. So I've had a lot to complain about.
On the other hand there are many things about American that are still quite good, better than their competitors, and indeed when I complain about how American compares today to where it used to be a more fair comparison might be with its competitors. And that comparison is more favorable than many of us often give them credit for.
Not in every way of course. Domestic first class meals still lag both Delta and even United. But in most of the ways that count.
Confirmed Upgrade Space Is Harder to Get — and That May Be a Good Thing
I can't confirm domestic upgrades with miles or certificates on most flights at booking anymore. But that also means general members with tons of miles from credit card spend can't either.
In a world where upgrades are harder to get because planes are full and the price of domestic first class is much lower than it used to be, American isn't making as much space available to AAdvantage members generally. But that means the remaining seats are more available to top tier elites on the upgrade list.
In Fact, I Get Upgrades
I was just upgraded on an Austin – New York JFK flight where the ticket was purchased 10 days in advance. There were only 5 (out of 16) first class seats available when I bought it. Three days out there were 3 seats left for sale. Then two days out I cleared, with 2 seats remaining for sale.
American has been making efforts to clear upgrades before the gate recently. They still hold back seats closer to departure than they used to, but at least may process more upgrades a few hours in advance which saves the gate agents from failing to do it having to do it while they're trying to get the flight out.
Upgrades are more common day of departure than they used to be, but for Executive Platinums they do clear as long as the upgrade at issue isn't a flight like New York LaGuardia or Washington National to Dallas at 5 p.m. on a Thursday.
American Treats Me Well During Irregular Operations
American's on-time performance isn't as good as Delta's despite their relentless focus on departing exactly on time or before to the exclusion of customer service procedures. But when things go wrong, a long delay or cancellation, American has been great to me getting me where I need to go. Agents on the phone are generally helpful, agents in the clubs that I frequent the most are great.
The airline is taking away some of the tools that help agents help customers but I've had nothing but great luck in my home club of Austin — which has the best 'AAngels' in the system — getting backed up on flights rather than having to change flights, and preserving even complimentary upgrades when that happens.
American Has the Best Business Class Seats of Any US Airline By Far
In fact I'd argue their business class seats are better than any European airline except Air France whose new business seat is similar to American's offering on the Boeing 777-300ER.

American Airlines Super Diamond Business Class Boeing 787-9
Sure they chose the B/E Aerospace Diamond (as opposed to Super Diamond) seat for their international Boeing 757s, and in a two-by-two configuration window seat passengers climb over the aisle seat to get to the lavatory. But that just means American's worst business class configuration [except for the handful of unreconfigured planes that might sub-in for international] is equivalent to what's offered on the bulk of United's fleet.
American needs better blankets and pillows in business class. Flying their Boeing 787-9 Paris – Dallas recently I brought my own pillow, like a teenage girl. But that's a relatively small fix.
United's Polaris seat is a huge advance over the current United offering, but isn't as roomy as most of American's seats. And very few planes have the seat. Even without delays they're a couple of years off of even having half the fleet equipped with seats that were inferior to American's before the first one rolled out. The Polaris soft product is good, but they've made a huge strategic fail in calling their business class Polaris without the seats.
It's possible that Delta's new business class with doors will compare favorably to American's Super Diamond business class when it begins to roll out in the fall, although it's far from clear that it will be since the basic seat the doors are going on — the Thompson Vantage XL — isn't better.
And of course American is the only US airline which is keeping an international first class product. It's not suites with doors (but at least the seats still swivel!). But it means better ground experience too, not only is American investing in new international business lounges they're investing in dedicated first class dining rooms.
They're Introducing High Speed Satellite Internet
It's taking too long, they only have their first plane with Gogo 2Ku in service. And they're going to have inconsistent offerings from 3 different internet providers (Gogo and ViaSat satellite domestically, Gogo air-to-ground domestically on most of the mainline fleet until the satellite transition occurs and even then still on the regional fleet, and Panasonic on international widebodies). But this element of the inflight experience is getting better, and will be increasingly better over the next 1, 2, and 3 years.
American Airlines Doesn't Have the Partner Award Availability of United, But It Has My Favorite Partners to Fly
Delta makes decent award space available on its own transatlantic flights and sometimes transpacific flights from Seattle during low season. Their partners outside of China Airlines are generally weak. They don't get the same award space that Air France gives to its own members despite being in a revenue-sharing joint venture. Partners like Vietnam Airlines (other than their new 787), Kenya Airways, and Air Europa are weak. They don't offer first class awards, period. And their pricing is exorbitant and ever-changing.
United offers Star Alliance award availability which is fantastic because of myriad partners offering several options to get to most destinations which makes awards easier to come by. And United doesn't add fuel surcharges to any awards. That makes United miles, overall, worth more than American miles.
American AAdvantage takes heat for award availability on its own flights, but the goal isn't to fly American most of the time anyway at least that's not my goal. Etihad has both among the world's best first class products and great award availability. Qatar has the world's best business class and good availability from several US gateways (including for travel beyond India and the Mideast, you can use these flights to travel to Africa).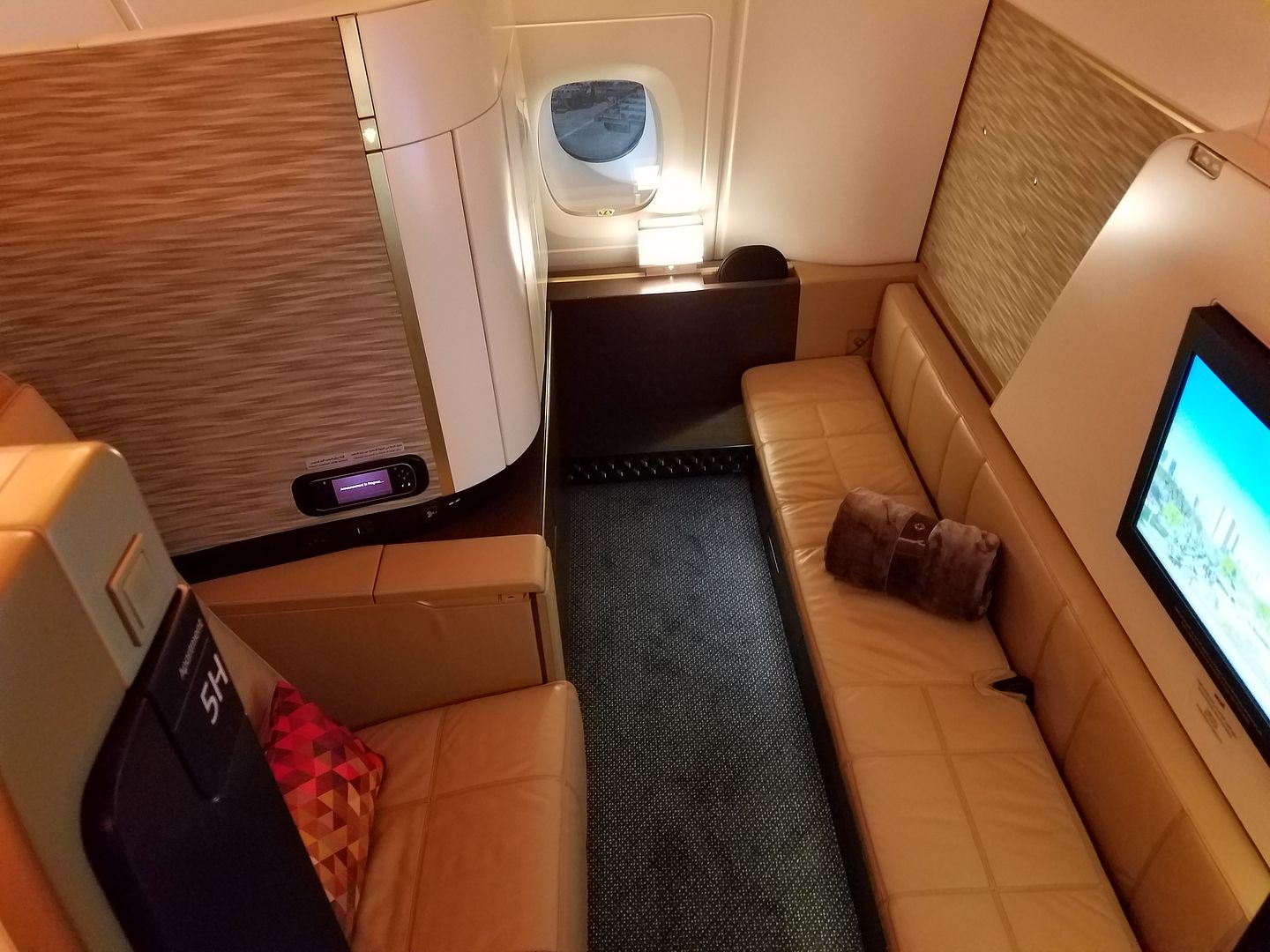 Etihad First Apartment
Qantas first class awards are tough from the US, much eaier to get from the Mideast and between London and the Mideast. Cathay Pacific first class awards are much tougher than they used to be especially if you're looking for multiple seats, but they're an American partner with my favorite bed for sleeping.
I find that I redeem American miles the most because I manage to get award availability on the airlines I want to fly. That counts for a lot. (Most miles aren't earned by flying any longer, of course.)
The Grass Isn't Greener
After United ousted hated CEO Jeff Smisek in the midst of a corruption scandal, Oscar Munoz seemed like he might change the tone at the company. He lacked airline experience, but he went on a listening tour and employees seemed to like him and feel like something was different. But he hired American Airlines President Scott Kirby to be United's President, and Kirby brought several executives along with him like Andrew Nocella who is now United's Executive Vice President and Chief Commercial Officer. The two men most responsible for the degradation of the AAdvantage program are now running the show at United. Plus they're bringing American's D0 obsession to United, even though D0 hasn't made American an on-time airline. They're re-banking hubs as well.
Meanwhile Delta operates with better on time performance using an old fleet of planes. Their service is marginally better (I always get predeparture beverages in first class and coats are always taken). But confirmed upgrades are at least as elusive, their top tier is harder to earn (at 125,000 miles and $15,000 spend) despite being able to 'roll over' qualifying miles from one year to the next, and they even charge extra to bring guests into their clubs.
SkyMiles keeps devaluing their miles every few months, doesn't offer international first class awards at all, and has new literally insane pricing for awards on partner airlines.
As frustrating as devaluations at AAdvantage has been, SkyMiles devaluations have been worse. A source at AAdvantage explained to me that when they came up with their March 22, 2016 devalued award chart the design was meant to increase prices while being 'not quite as bad' as United and Delta. And of course United is devaluing again too.