Premium economy is generally a product offered on international flights. It's been a mainstay of many airlines in Europe and Asia for years. It's new to US airlines, having been introduced by American about 8 months ago and soon to be introduced by Delta. (United is working on their own plan.)
Think of premium economy as being like first class on a US domestic flight. It's a bigger, wider seat with some more legroom but it's nothing like a business class bed, not even an old school angled bed seat. (In fact, commenter Mark pointed out that if you book a domestic connection in conjunction with premium economy internationally you are booked into first class for your domestic segment.)
Delta now has premium economy on the schedule with their brand new Airbus A350 flying Detroit – Tokyo Narita starting October 30.
So it's worth understanding what that product looks like and how it compares to premium economy at other airlines. To me there's one thing that makes it simply not competitive: Delta's premium economy seating is 2-4-2.
Now that's the same as Singapore Airlines on the Airbus A350.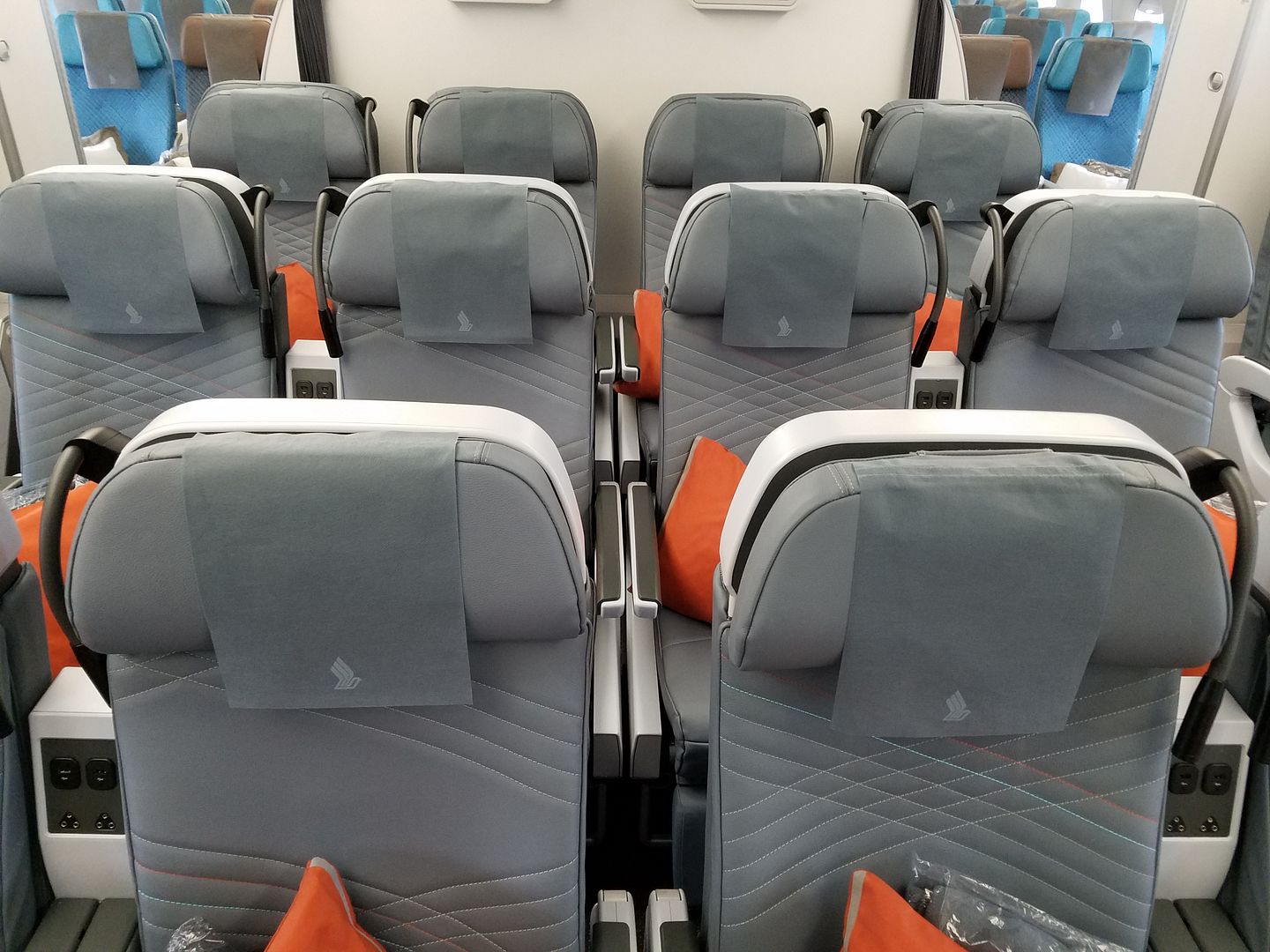 The thing is though that Singapore's premium economy seating is tight in terms of seat width.
American Airlines premium economy is 2-3-2 or 7-across on their Boeing 787-9.
The Airbus A350 that Delta (and Singapore) use are a little bit wider — perhaps half a foot — than the Boeing 787… but not a full seat wider.
On the other hand Delta's premium economy seats have foot rests while American's have foot rests only in the bulkhead and foot bars in other rows.
When the product was first announced I assumed Delta's premium economy would be better than American's. But as long as I can get the bulkhead on American, their Boeing 787 premium economy is a no brainer over Delta's A350 in my opinion.
Now, American's Boeing 777s will have 2-4-2 seating in premium economy. But a Boeing 777 cabin is better than half a foot wider than an Airbus A350, a foot wider than a Boeing 787, so it'll be comparable to the width American is offering in premium economy on their 787.
Put another way, Delta's economy cabin has 9 seats per row and premium economy has 8 seats per row in their Airbus A350. American's economy has 9 seats per row and premium economy has 7 seats per row in their Boeing 787. American's economy is tighter (inferior), while they take away two seats for premium economy and Delta takes away only one.
Delta would no doubt say that they're 'making better use of space' and I bet the seats fit more snugly against the window. That will let them get some additional seat width. But 8-across premium economy is just tighter and more claustrophobic on similar aircraft.
I'd be willing to bet that if and when American finally takes delivery of the A350s they've ordered their drive towards densification will mean they go 8-across in premium economy on that aircraft, too. But for now given the choice I'd certainly take an American 787 in premium economy over a Delta A350 in the same cabin, though the reverse is true for regular economy.