I receive compensation for many links on this blog. You don't have to use these links, but I am grateful to you if you do. American Express, Citibank, Chase, Capital One and other banks are advertising partners of this site. Any opinions expressed in this post are my own, and have not been reviewed, approved, or endorsed by my advertising partners. I do not write about all credit cards that are available -- instead focusing on miles, points, and cash back (and currencies that can be converted into the same).
---
The Platinum Card® from American Express
The Platinum Card® from American Express is the card with the best benefits. The value proposition here is airline lounges and elite status.
You get access to American Express Centurion lounges, Delta lounges when flying Delta same-day, and you get a Priority Pass Select card for access to those participating lounges (over 40 in the U.S. and over 1000 worldwide).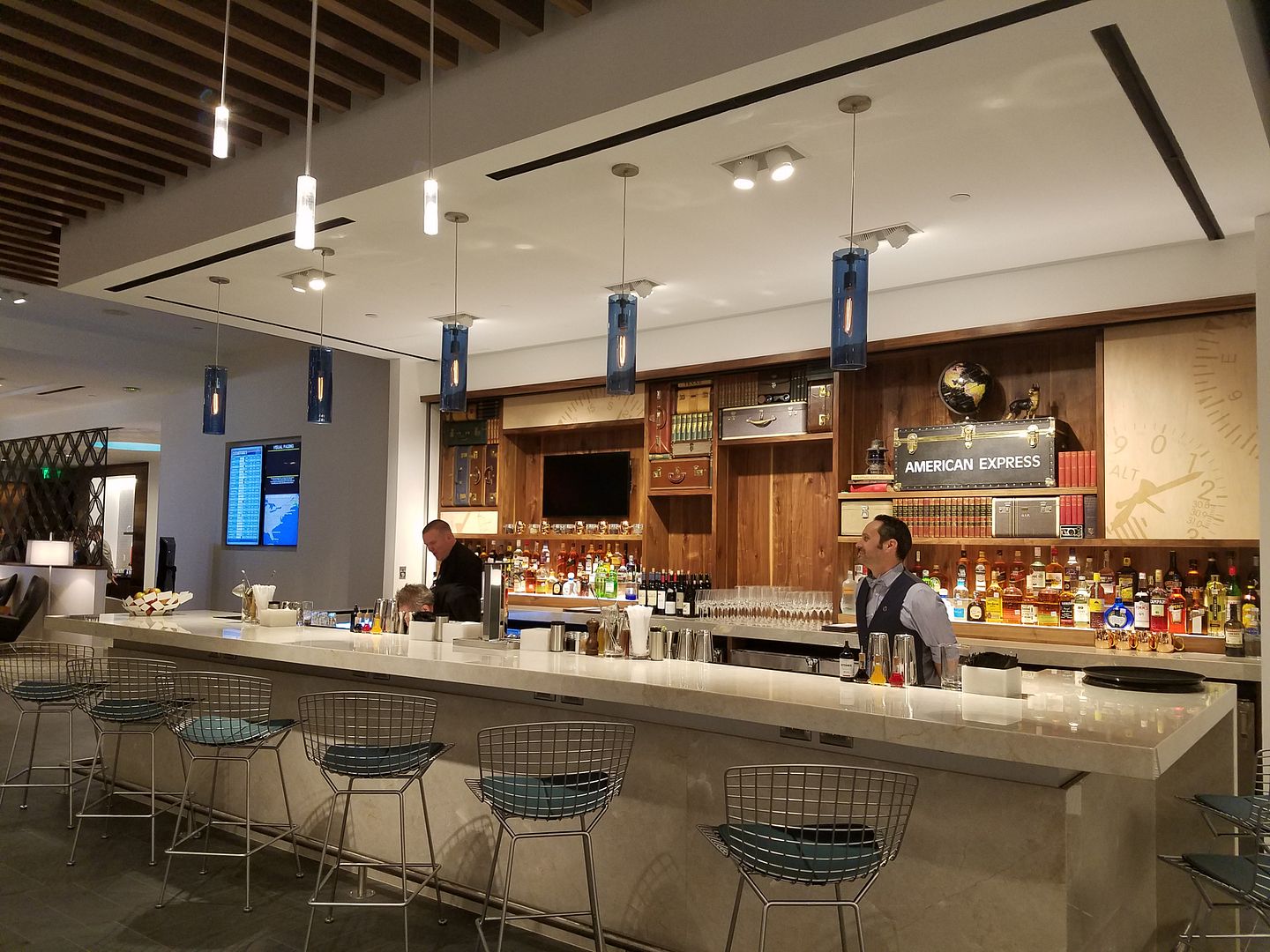 American Express Centurion Lounge Houston
It comes with Gold status in Starwood Preferred Guest — which matches to Marriott Gold as well — Hilton HHonors Gold. You also get National Car Rental Executive status and unlimited Boingo wireless internet.
The the The Platinum Card® from American Express earns 5 points per dollar on airfare purchased directly from airlines.
And its $550 annual fee goes down easier becaue you can designate one airline on which you'll receive a $200 fee credit for the year (in my experience, even though this isn't how the terms and conditions say it's supposed to work, small denomination American Airlines electronic gift cards have been reimbursed to me) and because of the new Uber benefit up to $200 per year. It also reimburses the $100 application fee for Global Entry or the fee for TSA PreCheck.
The card is now metal. New cardholders receive a metal card straight away. I called last week to get my existing plastic card replaced by the new metal one, because I wanted to see first-hand how it looked and what it felt like.
I received a Federal Express envelope today with a new metal Platnum card for myself and for my wife (who is an authorized user on my account).
The card certainly feels heftier than others in wallet. This isn't a plastic card, and it isn't a Chase Sapphire Preferred Card either. It's heavier than Reserve, but it's not as heavy as a Palladium Card. It doesn't 'clink' when you drop it.
I was a little bit disappointed by one thing: my card seems to be embossed on the metal slightly off-center.
There are no raised numbers on the card, and no numbers on the front either. It's a chip card (like my plastic one before it) and the numbers are written out on the back. You'll mostly consult those when using the card for a purchase online.
The package came a disposal envelope inside just like Chase sends out for their metal cards. You can't shred a metal card, so they give you a postage paid return envelope in order to have the issuer dispose of it for you.
Sending me an envelope with the new card made no sense, I don't need it now. Am I supposed to hang onto the envelope for the next several years until your card expires (mine has a 2022 expiration date)? Presumably they've just sent me the standard 'card replacement kit'.
I easily value the lounge access component of the card at a couple of hundred dollars per year, and of course lounge memberships run $500 and up and Priority Pass membership with unlimited visits but without a free guest runs $399. I'd value the hotel status at over $100, and the rental car status at $50. The airline fee credit and Uber credit is worth nearly $400 combined.
And that's before you get to perks like Fine Hotels and Resorts hotel bookings, use of the concierge, or reimbursement for Global Entry, and that the Centurion lounge network is expanding with new locations in Philadelphia and Hong Kong in the pipeline.
Of course the signup bonus of 60,000 points after $5,000 in purchases within 3 months (and the fact that the airline fee credit is based on calendar year, so you can effectively use it twice in your first annual fee year) makes this a no-brainer to get for a year.
What I need to try is to take the card with me through airport security to see whether it sets off metal detectors the way a Palladium card can. So experiments lie ahead!
The Platinum Card® from American Express