Iranian immigrant and 'celebrity dentist' Shawn Sadri — "whose bicoastal practice has been visited by actor Aaron Paul, and athletes Jose Canseco and Gabby Douglas" — was kicked off an American Airlines flight from Los Angeles to New York on Sunday after joking to a flight attendant about Donald Trump.
The highlight of American's Los Angeles – New York JFK service is it's fully flat, direct aisle access first class cabin.
However this bicoastal dentist to the stars was apparently flying economy.

American Airlines Airbus A321T Economy
He had spent a week in Los Angeles performing cosmetic dentistry "for his Oscars-bound clients" and was returning to his Manhattan practice. He found himself seated beside a young Latino boy ('6 or 7 years old') "who was nervous and crying before takeoff."
He reports that he asked the child, "Are you OK? Are you traveling alone?" but the boy apparently didn't speak English. The child ran down the aisle screaming.
A flight attendant came over, and that's when he got into trouble.
[H]e joked: "Maybe Trump is trying to deport him."

According to Sadri, whose family moved to the U.S. when he was 3, the flight attendant snapped, "Don't say that."

…"Fine, you must be a Trump supporter," he said he told the flight attendant. "And she said, 'What if I am?' So I said 'If you are, you are, but you're also incompetent and need to do your job. Why am I dealing with this kid?'"

According to Sadri, two other flight attendants came to their colleague's aid and a 3-on-1 argument ensued.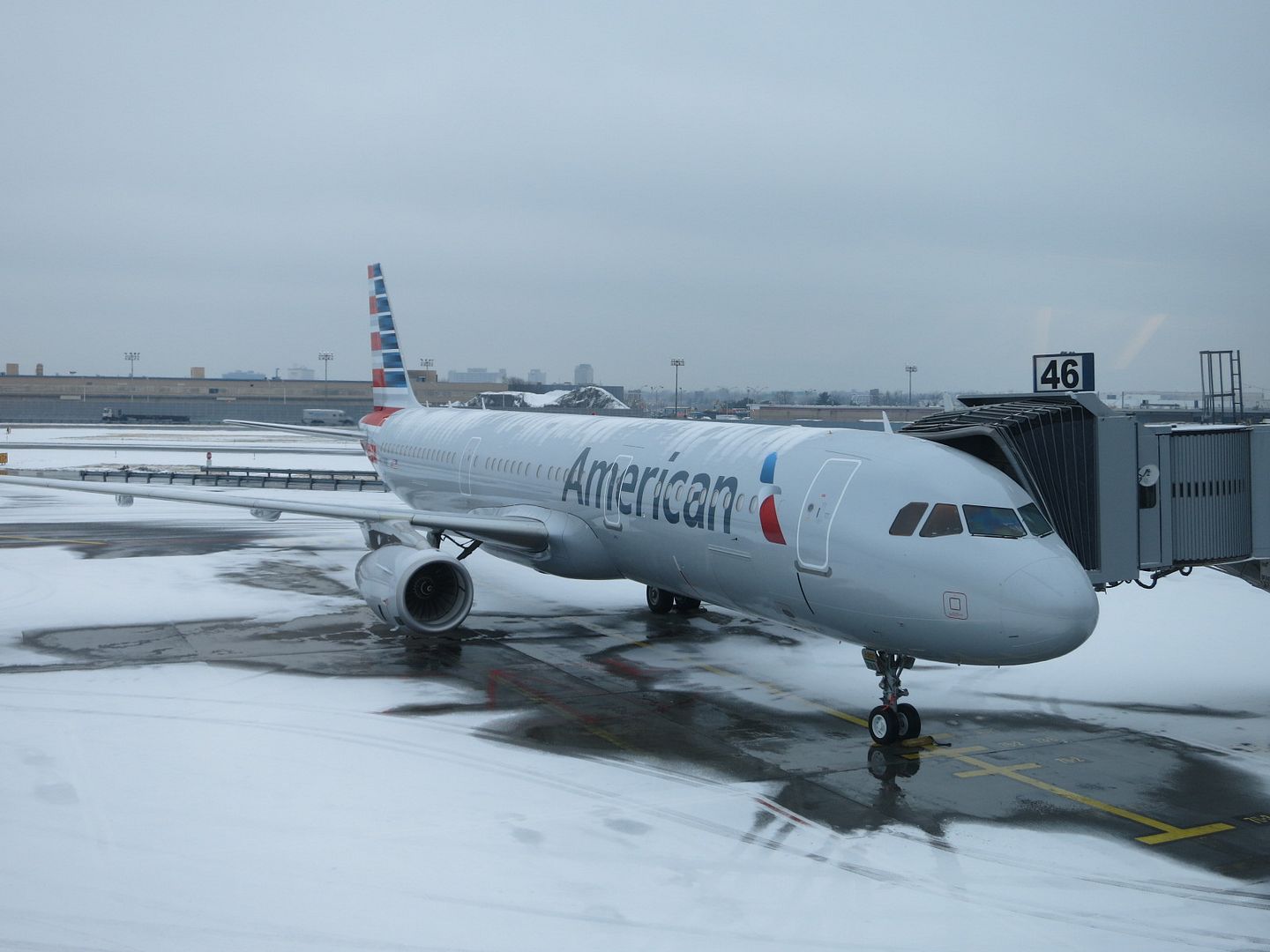 American Airlines A321T at New York JFK in Winter
And he was bounced from the plane — according to an American Airlines spokesperon "for not following crew members' instructions" although it's not clear what those instructions might have been, except perhaps to respect the President.
But don't worry, folks, the incident didn't interfere with D0, the flight pushed back four minutes early:
And the dentist, who believes flight attendants reacted to him the way they did because of his Iranian heritage, was moved to the 7 a.m. departure.