I receive compensation for many links on this blog. You don't have to use these links, but I am grateful to you if you do. American Express, Citibank, Chase, Capital One and other banks are advertising partners of this site. Any opinions expressed in this post are my own, and have not been reviewed, approved, or endorsed by my advertising partners. I do not write about all credit cards that are available -- instead focusing on miles, points, and cash back (and currencies that can be converted into the same).
---
About a week ago I wrote that it's the golden age of air travel with cheap fares all over the world. Most of those fares have been in economy, with sub-$400 roundtrips to Europe and Asia with amazing flash sales.
I certainly prefer travel in business class, and readers have been asking for those deals, in the past week I've highlighted West Coast to several European cities from $2000 roundtrip, business class to several Asian destinations for $1954, and West Coast to Africa from $2146 roundtrip.
Airlines are more aggressively discounting business class than before, not just economy, even if most of the eye-popping sales are in coach (and even if $2000 is of course still a lot of money). When I can buy paid business class for less than 50% more than I 'expect' to 'usually' pay for economy that's a good deal.
And here may be the best recent deal yet: Singapore Airlines is running a business class sale, and it's a really really good one with prices starting under $2000 roundtrip.
You can fly Singapore roundtrip from:

New York – Frankfurt

Houston – Manchester, UK

Los Angeles – Seoul

Los Angeles – Tokyo
You don't get all the way to Singapore for this price, and the airline's San Francisco – Hong Kong flight is excluded as well. Availability is very good because it books into "D" inventory.
Fares are bookable on Singapore's website, or any online travel agency site, and availability is wide open.
According to the fare rules on the Houston – Manchester fare I pulled up, here are the key details:

Book by February 20

Travel June 4 through August 30

You can fly Sunday through Thursday in each direction

Maximum stay of one month

$300 change or refund fee and there's a $200 charge for no show
On New York JFK – Frankfurt you get the Airbus A380. Consider then transferring points from Chase Sapphire Preferred or another bank card to Singapore's KrisFlyer program in order to upgrade to Suites Class. Singapore offers two levels of upgrade pricing which means that upgrades are usually possible to get.
For the Houston – UK flight, that's operated by Singapore's new Airbus A350 without a first class cabin but with their latest business class product. I attended the aircraft's Houston inaugural last month.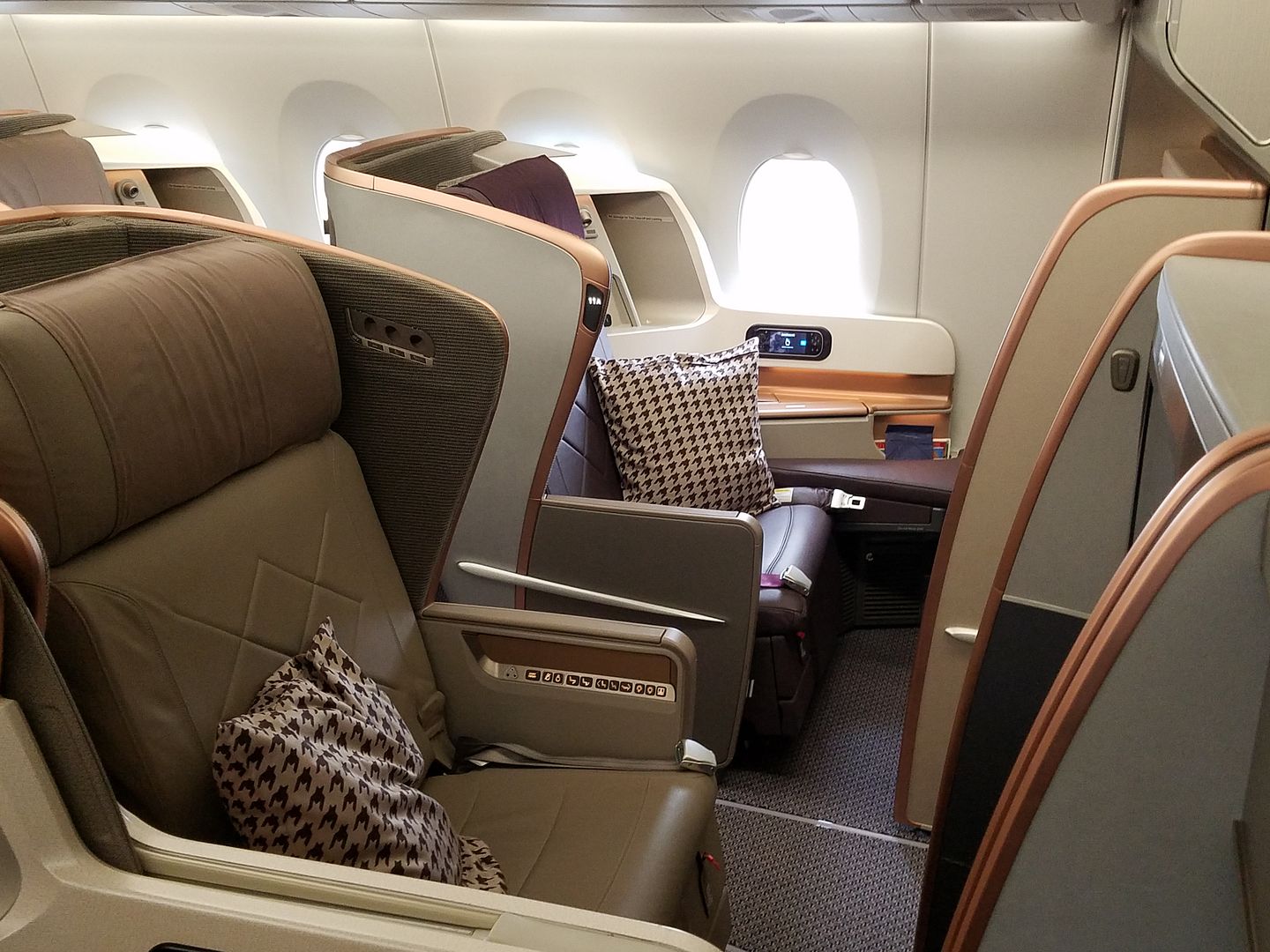 Both Los Angeles – Tokyo and Los Angeles – Seoul are operated by Boeing 777-300ERs which have four first class seats (so you may wish to upgrade) and a great business class.
Last time I redeemed points for a Singapore Airlines award I moved them over from my Chase Sapphire Preferred Card, at these prices you definitely wouldn't want to redeem miles for the ticket, even leaving aside the issue of taxes and fuel surcharges.
(HT: One Mile at a Time)