I receive compensation for content and many links on this blog. You don't have to use these links, but I am grateful to you if you do. American Express, Citibank, Chase, Capital One and other banks are advertising partners of this site. Any opinions expressed in this post are my own, and have not been reviewed, approved, or endorsed by my advertising partners. I do not write about all credit cards that are available -- instead focusing on miles, points, and cash back (and currencies that can be converted into the same).
---
The Financial Times ran a 'big read' piece last week on the battle for customers between credit card issuers, and featured my advice getting started with rewards and credit cards. The paper's request for my photo went into my spam folder, and I didn't notice until they had gone to press. Sad for me!
FT is one of the hardest paywalls to circumvent so if you're not a subscriber you may not be able to see it. I only managed to because of this link via Google that seemed to work, but not sure whether it will work for you.
The piece began with a hypothesis from the author that blogs like this one have helped educate consumers about the value of points, and really compare offerings, so that consumers are much better at discerning differences — and therefore banks are having to really spend more to compete.
Gary Leff, who writes View From The Wing, a travel blog, says consumers are becoming savvier at comparing rewards offers. "Not all points are equally valuable, since you have all these proprietary currencies that do not equate one to one," he says. "Consumers have come to understand them better — not perfectly, but enough that programmes have to adapt and stay competitive."
While I think this is true to some extent, I think that competition for premium credit cards really comes as an unintended consequence of Dodd Frank financial reform legislation. Credit cards have been one of the real bright spot in bank issuer earnings, so it's naturally become a more competitive space and that's driven up issuer costs.
The bottom line is that "[t]he six issuers — which also include Capital One, Citigroup, Bank of America and Discover — are on course to pay $22.6bn in rewards this year, 18 per cent higher than in 2015 and more than twice the sum they paid out as recently as 2010."
I'm not sure that I agree that "Amex, with an estimated $6.8bn in rewards costs, remains the most generous, but at $6.6bn, Chase has almost closed the gap." I don't see reported accounting costs as being the same as generosity. Cost isn't the same as value, total cost isn't the same as average value, and things like annual fees aren't constant across products in any case.
But it's not surprising to see American Express and Chase with the highest rewards costs. Both provide tremendous value and have been aggressive rewarding customers in exchange for their spend.
While the Chase Sapphire Reserve Card has gotten most of the ink this fall, Chase has come out with a new small business card the Chase Ink Business Preferred Credit Card that offers an 80,000 point signup bonus (after $5,000 on purchases in the first 3 months after account opening) on a card with a $95 annual fee versus $450 for the Sapphire Reserve. It doesn't just earn trip points on travel, shipping, internet, cable and phone services, and advertising with social media sites and search engines — it comes with a new innovative $600 cell phone protection benefit too.
All of this is expensive. So is 5 points per dollar on airfare, a new benefit from the Platinum Card by American Express and so is a limited-time offer for the Enhanced Business Platinum Card® that lets you earn up to 100,000 Membership Rewards points: 50,000 points after $5,000 spend within 3 months and an additional 50,000 points after you spend an additional $10,000 within those first 3 months. (Offer expired) The Business Platinum card also now rebates 50% of your points when you spend points directly for paid airfare on the airline you've selected for the year (or any airline in first or business class), giving you a minimum return of 2% this way. (And if you earn points at 5 per dollar, pairing the two Platinum cards means a 10% rebate on air.)
And that's all before you get to the leasing, construction, food and alcohol costs of American Express' own airport lounge network.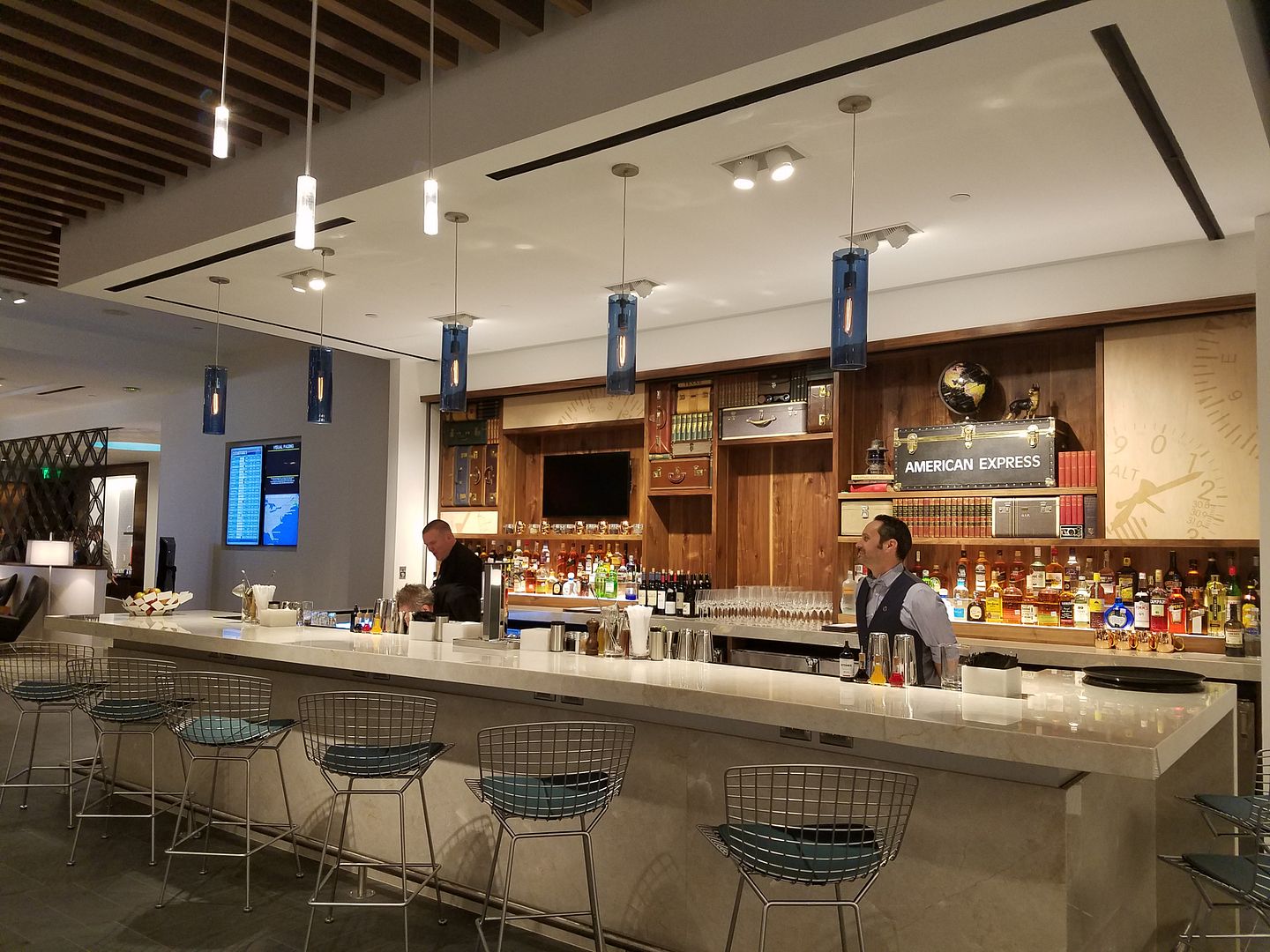 Bar at the Houston Centurion Lounge
There's discussion in the piece of how banks (and bank analysts) are worried about customers who simply sign up for the bonuses and leave. American Express believes the best tool to fight this is benefits that make keeping their cards worthwhile.
Ken Chenault, the company's chief executive for the past 15 years, said it would not be chasing new customers and new customer spending at any cost. "We are not interested in chasing short-term market share," he said at a Goldman Sachs conference this month. "The focus is not just on promotions. That's really not why they get a Platinum card. They get a Platinum card based on the services that we provide. The Centurion lounges [at airports], the concierge services, the Transportation Security Administration Global Entry fee, all of those features are very important."
Although American Express says they're going to spend even more to reward spending in 2017. I love the way this is described in finance-speak:
At the same time, it has told investors that it will also be more generous with rewards on spending in 2017 — although rarely has a multimillion-dollar giveaway been promised in such dry language. "You will see a reversal of the trend we have seen the last few quarters where neutral rewards have been growing a little bit more slowly than billings," Jeff Campbell, Amex chief financial officer, said on the company's most recent earnings call in October.
If you can, read the piece for the sidebar of advice I offer.