Lots of loyalty programs let you donate points to charity. The points don't generally have a tax basis, you don't take a tax deduction. Instead you redeem your points, which reduces the liability the program keeps on its books, and they make a donation to charity.
Usually you're limited to a handful of official charities that your travel provider works with — these are often pretty milquetoast (selected intentionally to be non-controversial) though that's not always the case. Some programs will give you miles for donating to a preferred charity, which can either mean that the program is providing the miles or the charity is buying them as part of the acquisition cost of a donor (it's worth it to a charity to 'buy the names' or people likely to donate in hopes of securing future and growing contributions from a subset of those who make an initial gift).
Use Your Marriott Points to Support Any Charity You Want This Year
Marriott has done something more interesting and unique. They will let you redeem points to donate to any US charity you wish, and even some abroad. At the new MRGiving website you can redeem Marriott Rewards points for donations to just about any charity you could possibly choose..
Still need to make a last minute gift to someone? Go online and donate to a charity and let them know you've done so for the holidays.
But Are You Getting Value For Your Points This Way?
You aren't going to get outsized value for your points like you will redeeming for a great hotel, but it's something that points-rich cash-poor members, or members who accumulate plenty of points for work with little desire to redeem for leisure, will want to know about.
Here are the options and values:

For most people, I think you're better off redeeming your points for travel and taking the cash you would have spent on hotels and giving that away instead.
It will mean more cash goes to charity

And you take a tax write-off to boot

Battle House Renaissance, Mobile Alabama
I value Marriott Rewards points at about 7/10ths of a cent per point so here you're getting half the value you will for travel uses but that's actually pretty good considering it's a cash cost for Marriott Rewards versus their buying excess hotel inventory at a discount or buying airline miles in very large quantities. This is a small check they have to write and mail to a charity.
If the last thing you want after a year of travel is… more travel… then being able to do some good with your points is a nice option to have.
Choose Your Charity Means Money Really Goes to Charity
Being able to choose your charity is meaningful, too, and not only because the cause matches your interests most. I don't love giving through programs that have a limited set of designated charities. There's not enough transparency. For instance, if the travel provider is going to donate $100,000 to the charity no matter what and members donate points that add up to $80,000 in donations… is your points donation even changing the check the company would write?
When Marriott says you can donate to your choice of 1.5 million charities, you're basically choosing from any US public charity (and that limitation makes sense, since they aren't vetting the charity it protects them from inadvertently donating to an organization that the US deems as supporting terrorism, and there are additional burdens when making grants to organizations outside the United States).
Marriott Doing Well By Doing Good
I spoke with Thom Kozik, Marriott's Vice President of Global Loyalty, about the effort.
The first thing I wanted to understand was what's in it for Marriott to build this out? And in addition to the obvious 'doing good' he was candid about the loyalty aspect here.
He said it helps to make an "emotional connection" with members, that they "want the redemptions and dream vacations, but for large number of members, if they can do something generous with their points that's very empowering." He talked about a military service family where the father had been piling up millions of points to pay for his daugher's wedding. She's also in the military. The idea of accumulating points to give to someone else was personally meaningful, and this extends the concept – potentially making members more loyal to Marriott.
So while Marriott itself has been charitable, they didn't have charitable giving that was this directly connected to their members.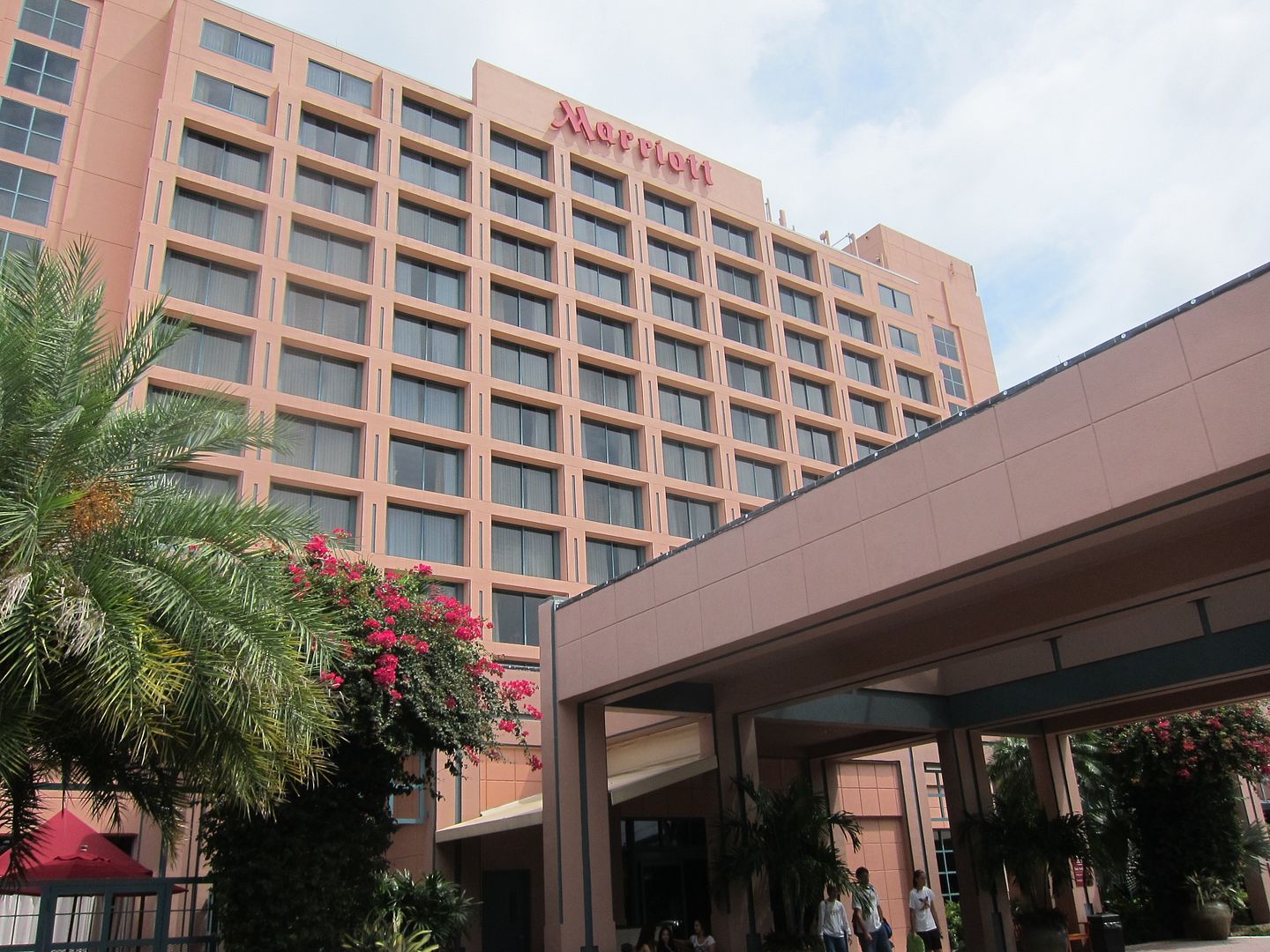 Marriott Boca Raton
Members Are Giving More Around the World
And they plan to use the platform they've built to engage their members even more. So while there are about 60 international charities on the list in addition to the US ones that members can donate to, they're going to roll out a form that lets members recommend charities to add as well. (Marriott has to vet recipients of funds for Patriot Act compliance.) They very much want to grow internationally, along with their hotel footprint (something that's been aided significantly by the acquisition of Starwood.)
So they have a number of Chinese charities now, whereas in the past Marriott Rewards didn't have international charity tie-ins. And Kozik reports that they "have had donations from almost every continent."
Six weeks into the trial, without promotion, the system is working as expected. Members have given to more than 210 charities so far, and the amount of points donated is up 70% compared to the third quarter (how much of this is driven by choice, versus an end of year focus on giving, is unclear). Total giving hasn't hit $100,000 yet, but they're hopeful to cross that threshold and grow from there.
Marriott modeled their cost per point "against typical redemption value" and said unlike "what other hoteliers have done, we don't have a fee charged on top" so they give value to the charities and by covering the overhead themselves the charity "gets about 10% more" than they otherwise would.
Expect to See More Customized Options for Charity in the Next 6 Months
Marriott's roadmap over the next two quarters involves:
Improving communication with members about charitable opportunities. This includes highlighting special needs (such as earthquake, natural disasters) but even doing this in a way that's relevant such as calling attention to charitable opportunities in places they know a member travels. Marriott Rewards wants to do more to personalize across the board, including the website, and charity is one place they plan to do that.
Offer a toolkit both to charities and to members to use to raise funds. There will be materials for charities to use (logos, links, an API to embed in their own campaigns) to let people know they can give through Marriott Rewards. And they plan to roll out tools for members to use to do a personalized campaign to raise funds for a cause from their friends who are Marriott Rewards members as well.
Ultimately it's not the highest-valued use possible for your points, but Marriott clearly isn't saving money here when you use your points this way, and it's something that lets members do good if they want. It's part of an overall loyalty strategy of offering customized opportunities to members, and not just raising funds for their own preferred charities from members, so that seems like a great project to me.