I receive compensation for many links on this blog. You don't have to use these links, but I am grateful to you if you do. American Express, Citibank, Chase, Capital One and other banks are advertising partners of this site. Any opinions expressed in this post are my own, and have not been reviewed, approved, or endorsed by my advertising partners. I do not write about all credit cards that are available -- instead focusing on miles, points, and cash back (and currencies that can be converted into the same).
---
Hyatt's new World of Hyatt program changes starting March 1 are surely controversial. There's no change to earning and burning points, so it doesn't change much for the non-elite member. However,
It's likely an improvement for someone staying 80, 90, 100 nights a year with more confirmed suite upgrades and a dedicated reservations representative ("My Hyatt Concierge").
It may be an improvement for the 60 night elite. Best available room upgrade will include standard suites, and confirmed suite upgrades can be used on award stays.
For me it's a wash. I already have a Private Line Agent, so a dedicated representative isn't a help. I give up the 1000 point check-in amenity, and get free nights that expire after 120 days if not used. I'd much rather have the points and use them when I want. They're even eliminating the turndown service guarantee and tightening up breakfast rules slightly.
For someone staying 25 times, who used to make Diamond, the program is a huge downgrade. For someone staying 30 or even 50 nights a year it's just not competitive — club level 4 times a year, compared to mid-tier status at Hilton and Marriott giving that or breakfast on most stays.

Park Hyatt Hadahaa Maldives
Hyatt Will Stop Competing For Guests Staying Less Than 60 Nights
Hyatt's new elite program may be an improvement for top tier members, though we'll have to wait for it to be up and running to know for sure. But status is harder to get. In fact,
The program is worse for people who won't make top tier
It's absurdly tough to make top tier relative to competitor chains
And Hyatt seems not to bother competing for guests below the top tier.
To be sure, Hyatt's top tier ("Globalist" under the March 1 program changes) remains the best top elite tier of any of the major hotel chains. They're the only one that offers suite upgrades confirmed at booking and full restaurant breakfast — not continental breakfast — when a club lounge isn't available.
Hyatt's top tier is hard to earn than the competition. And Hyatt's mid-tier is both harder to earn and less rewarding than the competition.
Marriott is thought to have the toughest top elite tier to earn. It requires staying 75 nights a year, compared to Hyatt's 60 nights. However,
You can get 15 nights a year just for having the Marriott Rewards® Premier Credit Card. That evens them up. You can even spend on the Marriott Rewards® Premier Credit Card to earn additional elite nights.
The Ritz-Carlton Rewards Credit Card lets you earn top tier with $75,000 in a year in purchases — no stays required.
In contrast Hyatt is eliminating the ability to earn elite nights towards top tier status with their credit card entirely.
While Hyatt eliminates the ability to earn top elite status on stays, you can still earn Starwood Platinum status after 25 stays, and Starwood Platinum also matches to Marriott Platinum.
And Marriott has over 5700 properties compared to just over 600 for Hyatt. It's reasonably easy for most people to keep all their stays with Marriott. It takes more work to do 60 nights with Hyatt, and their footprint means that many who try to be loyal just can't stay at Hyatt all the time.
Hyatt's mid-tier, also harder to reach at 30 nights on a limited foot print, doesn't come with lounge access or breakfast on most stays. In contrast you can get the Citi Hilton Reserve Card and that comes with gold status just for having the card, which means breakfast at most full service properties, and $40,000 in spend gets you top tier.
Hilton's top tier isn't as rewarding as Hyatt's. But Hyatt's is harder to get. And Hyatt just isn't competitive below the top tier.
How Upgrades at Hyatt are Changing in 2017
Whether Hyatt's new top tier is actually better than before really comes down to how:
Upgrades work

My Hyatt Concierge works
Hyatt has been strangely quiet about the dedicated reservations representative benefit. I've asked several people and gotten few concrete answers.
It's far clearer how upgrades are changing, but there are some details that may not be so obvious. One obvious plus is that customers who spend 70, 80, 90, or 100 nights with Hyatt can receive an additional confirmed suite upgrade at each of those thresholds.

Park Hyatt Chennai
One of the most request benefits from Gold Passport over the past 7 years has been the ability to use confirmed suite upgrades on award stays. Things became easier when Hyatt introduced cash and points stays as paid stays, eligible for confirmed suite upgrades and even promotional earning. However true points stays are redeemable for suites but not upgradeable with these certificates.
That will change next year. Of course, with a requirement of 60 nights to earn Globalist status for 2018 (and in future years 55 nights to maintain it) and without the ability to earn some of those nights with credit card spend, it's harder to justify free redemption nights at all. And with free nights replacing check-in amenity points, there are now new free nights that expire in 120 days to use or lose.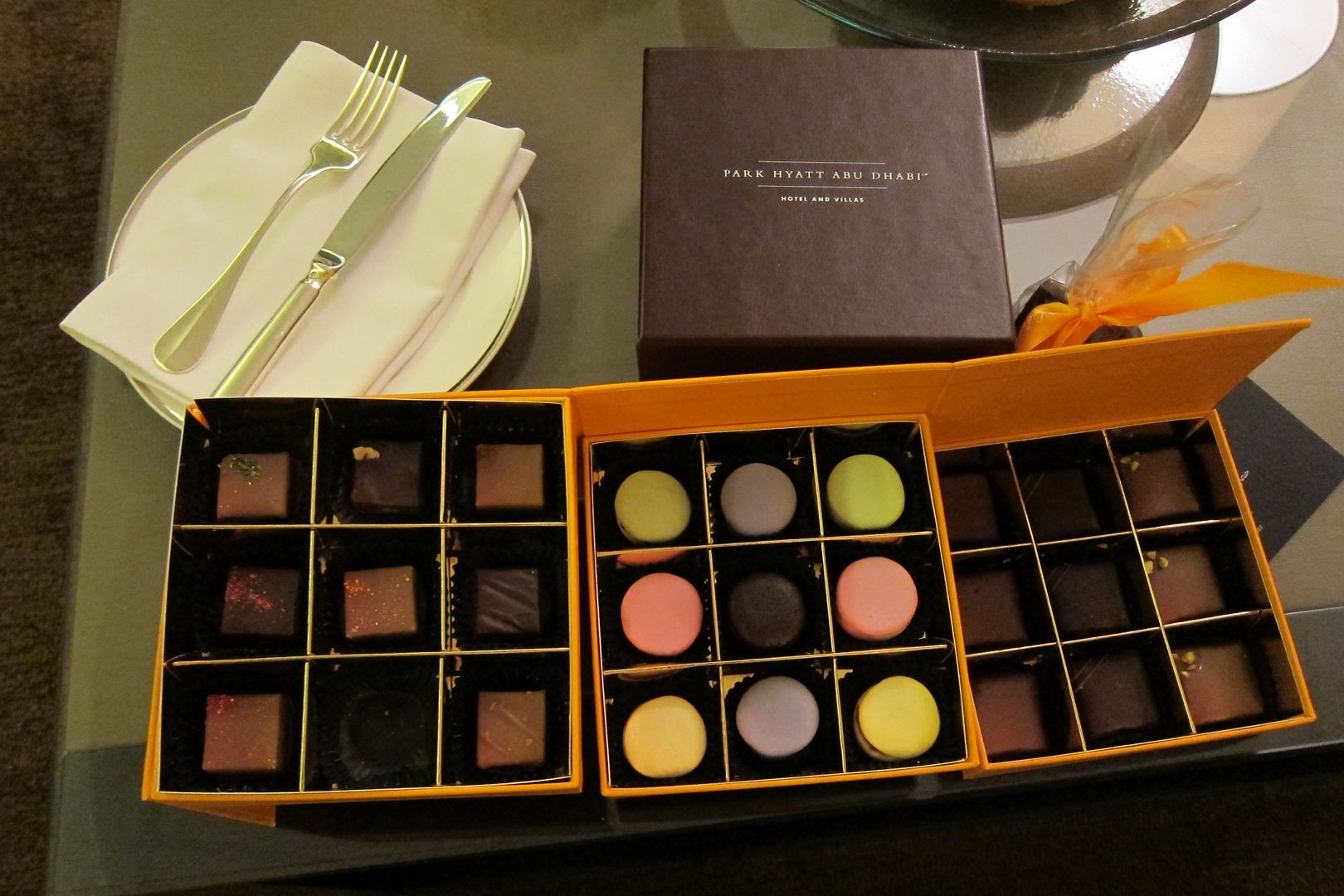 Welcome Chocolates at the Park Hyatt Abu Dhabi, Check-in Amenity of Choice Goes Away Starting March 1
While reward stays will be upgradable to suites with Globalist confirmed suite awards, free nights for earning Explorist and Globalist and the annual free credit card night will not be. As Hyatt explained to me,
Currently our system recognizes promotion awards and chart awards differently and therefore we're not able to accommodate the use of suite upgrade awards on promotional awards. Being able to use suite upgrade awards on chart free night awards accommodates the majority of awards our members use.
Hyatt's current terms and conditions list the hotels where you cannot use a confirmed suite upgrade.
Park Hyatt Beaver Creek Resort, Park Hyatt Maldives Hadahaa, Park Hyatt Sydney, Andaz Tokyo, Hyatt Regency Kyoto, Hyatt Regency Phuket Resort, Hyatt Regency Tulsa, Hyatt Regency Wichita, Hyatt Paris Madeleine, Hyatt Herald Square, Hyatt Key West Resort and Spa, Hyatt Manila City of Dreams, Hyatt Santa Barbara, Hyatt Residence Club resorts, Hyatt Place and Hyatt House hotels and M life resorts.
The new terms and conditions add one hotel to the list — Hyatt Centric South Beach Miami — but Hyatt House properties become eligible for confirmed suite upgrades.
The new benefit that makes 'best room available at check-in' include standard suites is full of weasel words.
Globalists will receive the best room available at the time of check-in at Hyatt hotels and resorts, including standard suites and rooms with Club lounge-access. The best room available will be determined by the applicable hotel or resort in its sole discretion and may vary from stay-to-stay. The "best room" may, but will not necessarily be, of a room type/category higher than that booked by the Member. Best-room-available benefit includes only standard suites (where available), which are defined as rooms within each participating hotel's or resort's introductory suite category. Specialty, Premier, Presidential, Diplomatic, and other suites other than standard suites are not included in this benefit. Not valid at Hyatt Place, Hyatt House, or Hyatt Residence Club hotels and resorts or at M life Resorts.
The key here is "The best room available will be determined by the applicable hotel or resort in its sole discretion and may vary from stay-to-stay."
At Starwood, a member is entitled to a standard suite if it is available at check-in for the full length of their stay, period. If a hotel has a standard suite available and ready (cleaned) and they don't provide it to the Platinum member, they are actually acting against the program's terms.
At Hyatt there's no recourse. If a hotel holds back a standard suite because they want to sell it, or for that matter for any reason or no reason, they haven't broken program rules and the member has no recourse because the benefit is in the property's sole discretion to provide.
In practice upgrades to suites may happen, they may not happen, or they may work better at some hotels than others. We won't really know until the benefit launches March 1. But it's very much not a guarantee the way Hyatt's confirmed suite upgrades are.