American is temporarily re-branding their existing Flagship lounges as International First Class lounges as it prepares to introduce brand new business and first class Flagship Lounges in the coming months.
That's because these new Flagship Lounges are going to be a new concept, rolled out as renovations to existing lounges and new builds are completed starting this spring. We're going to see New York JFK opening first in a few months, followed by LAX by mid-year.
American didn't want confusion between the new lounge product and access rules (at, say, the newly-opened New York JFK Flagship lounge) and the older product and rules (at existing lounges whose renovations haven't yet been completed).
American's Current Clubs
American has two types of lounges.
Admirals Clubs. These are most of American's clubs. Members buy access, use a premium Citibank credit card to gain access, or have access based on the class of service of their ticket.
Flagship lounges. These are American's first class lounges, for those flying international first class (and 3-cabin first class transcon) and that American's top tier elite members can use when flying internationally and oneworld top tier members can use when flying a oneworld airline same-day (including American Airlines domestic).

Entrance to American's Admirals Club, Austin
The "Flagship" name has an interesting history. American opened the very first airport club lounge in 1939. New York's Mayor LaGuardia was criticized for having too big an office at New York LaGuardia airport so he rented out some of the space to American.
American couldn't name it "Admirals Club" because a judge determined people might think it was for Navy Admirals only, so it was named "Flagship Club."
American's second club was at Washington National airport. They weren't allowed to serve alcohol, so they stored bottles for members. This practice continued until liquor laws were changed in 1970.
Paid memberships to American's Admirals clubs weren't introduced until 1967 (previously they had been given out by AA Sales). The price was $25 per year or $250 for a lifetime membership.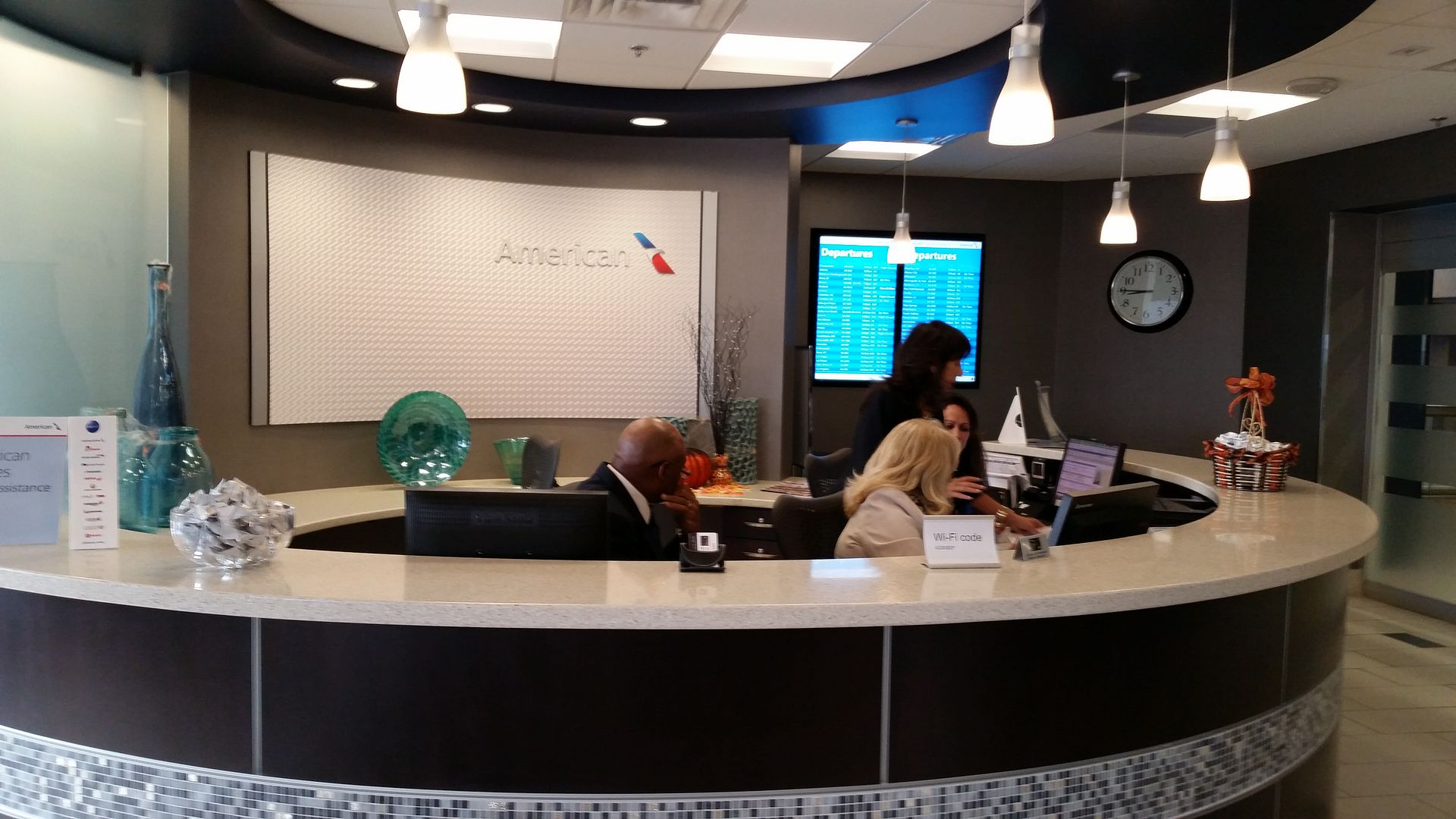 American Admirals Club, Phoenix B Concourse
American is Renovating Flagship Lounges, Opening New Ones, and Adding Business Class Access
American is renovating the New York JFK, Los Angeles, and Chicago Flagship lounges.

Current Flagship Lounge, Chicago O'Hare

Rendering of New Flagship Lounge Seating, Courtesy American Airlines
They are adding Flagship Lounges at:
Dallas Fort-Worth at the D concourse Admirals Club lounge, which hosts what was rolled out as Flagship dining but is now called International First Class Dining – the lounge will be renovated to add space.

Miami at the D30 Admirals Club, which will be renovated to add space.

Philadelphia at the A West club between Gates A15 and A16.
With the opening of each renovated club, the name International First Class lounge will change back to Flagship lounge and will add access for long haul and premium transcon business class passengers. (The new Dallas, Miami, and Philadelphia clubs will open as new Flagship Lounges from day one.)
Four Lounges Will Offer Flagship 'First' Dining
American opened a Flagship Dining Room inside the Admirals Club on the DFW D Concourse a year ago. This was a temporary measure, until the new Flagship Lounge in Dallas opens (and consistent with the temporary rebrand, this is now called Flagship First Class Dining).

DFW Flagship Dining, Credit: Hans Mast
The plan is to have tableside service of pre-flight meals at four of the Flagship lounges: New York JFK, Dallas-Fort Worth, Los Angeles, and Miami.
This is more exclusive than Flagship lounge access — while Flagship lounges expand to business class customers, Flagship dining will be for first class — so it's being rebranded from Flagship Dining to Flagship First Dining.
Similarly, Flagship check-in which is open to international (and premium transcon) first class passengers and concierge key members is being rebranded Flagship First check-in to avoid confusion on the part of business class passengers who will have Flagship Lounge access but not Flagship check-in or dining access.
The Chicago and Philadelphia Flagship lounges will not have Flagship First dining, and Philadelphia will not have Flagship First check-in.
You Can Still 'Make Your Own First Class Lounge Access' Inside the DFW A Concourse Admirals Club
Dallas used to have a first class lounge in the A terminal. It's still there inside the Admirals Club, a separate room, that seemingly no one ever uses.
It's where I always go in the A terminal — you take the elevator up into the club and instead of walking straight ahead past the desk of agents, you turn around 180 degrees and the room is behind you, it has its own bathrooms and it's quiet.
Once the D terminal opened as the international terminal in 2005, there was no more need for a first class lounge in A. And American opened its Admirals Club in D but without a Flagship Lounge.