Cathay Pacific now has 'priority awards' for business and first class. In other words, there's no longer just one reward tier, but two different levels of pricing when using Cathay Pacific's own AsiaMiles.
As part of our continual efforts to improve our service and benefits to members, we are happy to announce the introduction of Priority Awards Tier 1 and Tier 2 in First and Business Class for Cathay Pacific and Dragonair flights from 12 October 2016.

Priority Awards offer you more seat-redemption options and thus a higher chance of securing a seat when travelling on popular routes and/or during the peak travel season.

Cathay Pacific First Class
American Express and Citibank points transfer to Cathay Pacific AsiaMiles. Cathay Pacific will offer better award availability for more points, so this should mean access to more awards if you're willing to pay a premium.
However it will almost certainly – at least over time – mean less saver award availability, since members can spend more points for more seats. And saver awards are what's available to partners like American AAdvantage and Alaska Airlines Mileage Plan.

Cathay Pacific Business Class
Here's the new AsiaMiles two-level award chart for Cathay Pacific awards:
As it stands Cathay Pacific first class awards have gotten much harder to secure from the U.S.
With only 6 seats and no more 747s (that had 9 seats), there are just fewer seats to go around.

They used to frequently offer 2 award seats per flight early on, now they offer just 1

If you want a second seat (or more) you'll expect to see it only if there are seats left within a week of travel.
Like Singapore Airlines A380 Suites, awards are much easier to get between Europe and Asia than between the US and Asia. That may be where we see the biggest changes in first class availability — since there's meaningful first class availability to start with that could move from the lower to higher tier of redemption with Cathay's miles (and would thus become unavailable using, saying, British Airways Avios).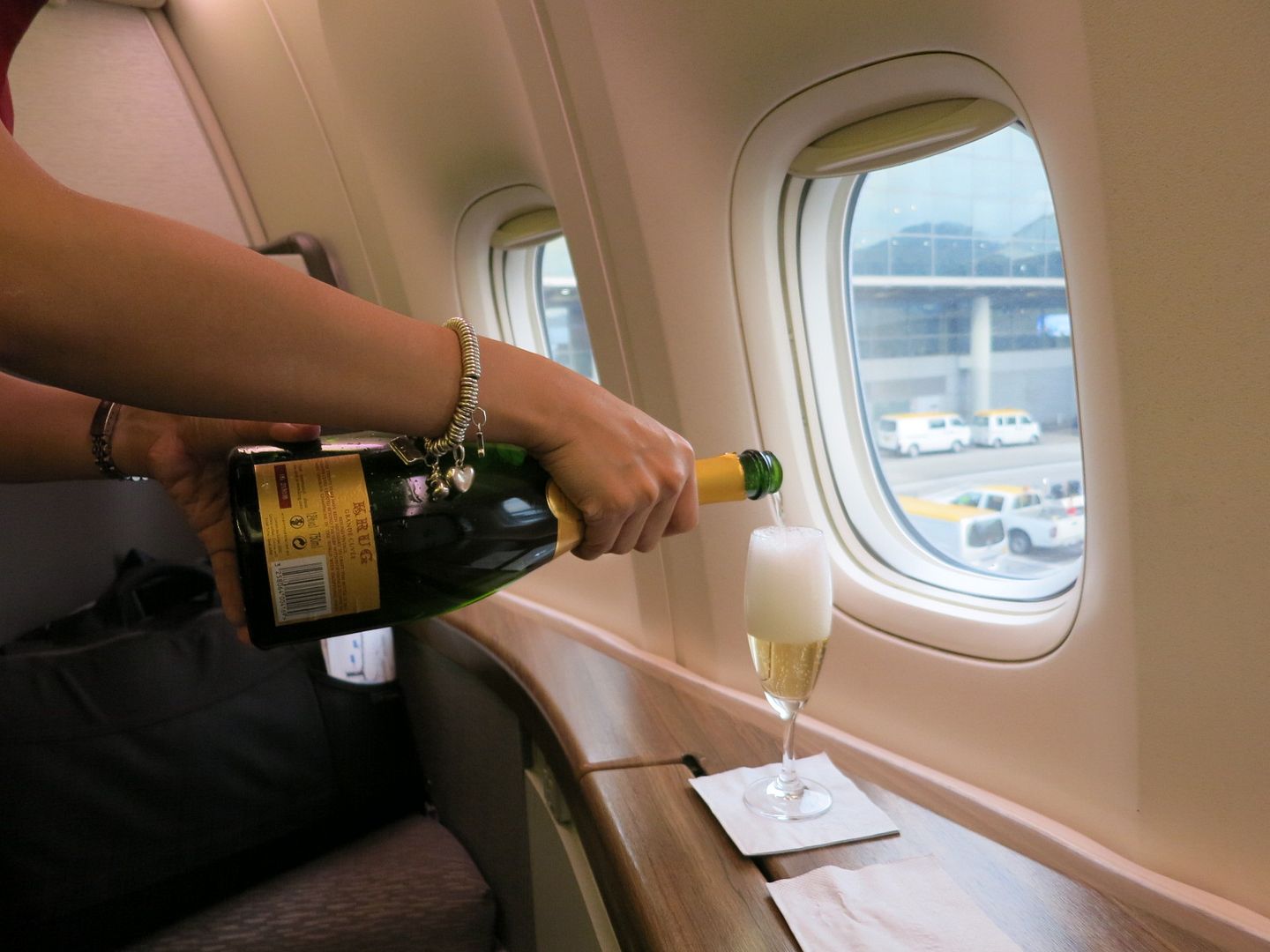 Cathay Pacific First Class Champagne: Krug
At this point we have little data on what the change means, I don't yet see reductions in saver space based on limited searches. So my expectation that this is bad for members is based merely on experience and an overall cynicism.
At a minimum there's no way in which this is a good thing for people looking to use American or Alaska miles for premium cabin travel on Cathay, at best it could be neutral and that strikes me as privileging hope over experience.
(HT: One Mile at a Time)