I receive compensation for content and many links on this blog. You don't have to use these links, but I am grateful to you if you do. American Express, Citibank, Chase, Capital One and other banks are advertising partners of this site. Any opinions expressed in this post are my own, and have not been reviewed, approved, or endorsed by my advertising partners. I do not write about all credit cards that are available -- instead focusing on miles, points, and cash back (and currencies that can be converted into the same).
---
Key Links:

My single favorite card for earning valuable rewards points is the Chase Sapphire Preferred Card and it currently has its best-ever public offer that lets you earn 50,000 bonus points after you spend $4,000 on purchases in the first 3 months from account opening.
That's $625 in travel when you redeem through Chase Ultimate Rewards® — but you shouldn't spend your points that way, as I'll explain.
The card has an introductory annual fee of $0 the first year, then $95.
Chase Sapphire Preferred remains my favorite rewards card, and it edges out the other best in class card Citi Prestige.
I carry both cards. Sapphire Preferred is a Visa. Citi Prestige is a Mastercard. I believe a well-equipped wallet should have at least one Visa, one Mastercard, and one American Express.
I've been a fan of the Chase Sapphire Preferred Card as an important tool for frequent flyers since 2011 because:
It earns one of the most valuable points currencies, which transfer to a variety of airlines (including in all 3 major airline alliances) and hotels.

It earns points quickly, with 2X points on travel and dining at restaurants & 1 point per dollar spent on all other purchases worldwide. The card bonuses what travelers spend on most.
It seems in many cases that Chase has only wants to approve this card for new customers that haven't applied for 5 new cards in the past two years. The advice then is to prioritize getting a Chase Sapphire Preferred Card before you apply for other cards.
I love the signup bonus. I love the $0 annual fee the first year. I love double points on travel and dining where is where I spend the most money and where I have the most reimbursable spend.
I love earning points shopping online through the Chase Ultimate Rewards mall for things I'd buy anyway.
I love primary collision damage coverage when I rent cars. Most premium cards offer secondary collision coverage, they pay what your insurance doesn't (which usually means they cover your deductible). With Sapphire Preferred's primary coverage, rental a qualifying vehicle and charge it to the card and your insurance company may not even need to know that you're playing adult bumper cars.
I love the trip delay coverage. If you're delayed 12 hours or overnight you can get reimbused for hotel costs and meals. I especially like that the up to $500 benefit applies when you charge even a portion of a ticket to the card, so I like it for paying the taxes on award tickets.
There are transfer partners in each of the 3 airline alliances and non-alliance partners to transfer points 1:1 into also: United, Korean, Singapore Airlines, British Airways, Virgin Atlantic, Air France KLM and Southwest.
United gets you Star Alliance availability to Europe and Asia and no fuel surcharges. British Airways gets you cheap short-distance non-stop awards.
You get access to Skyteam award space through Korean Air which has some very favorable awards — like some of the cheapest awards to Hawaii and 80,000 mile business class roundtrips to Europe (plus fuel surcharges).
You also get the ability to redeem for international first class through Korean and not just business class, something Delta doesn't allow.
Among hotel partners you can transfer points to Hyatt is the best value, but points do also transfer to Marriott, Ritz-Carlton, and IHG Rewards Club.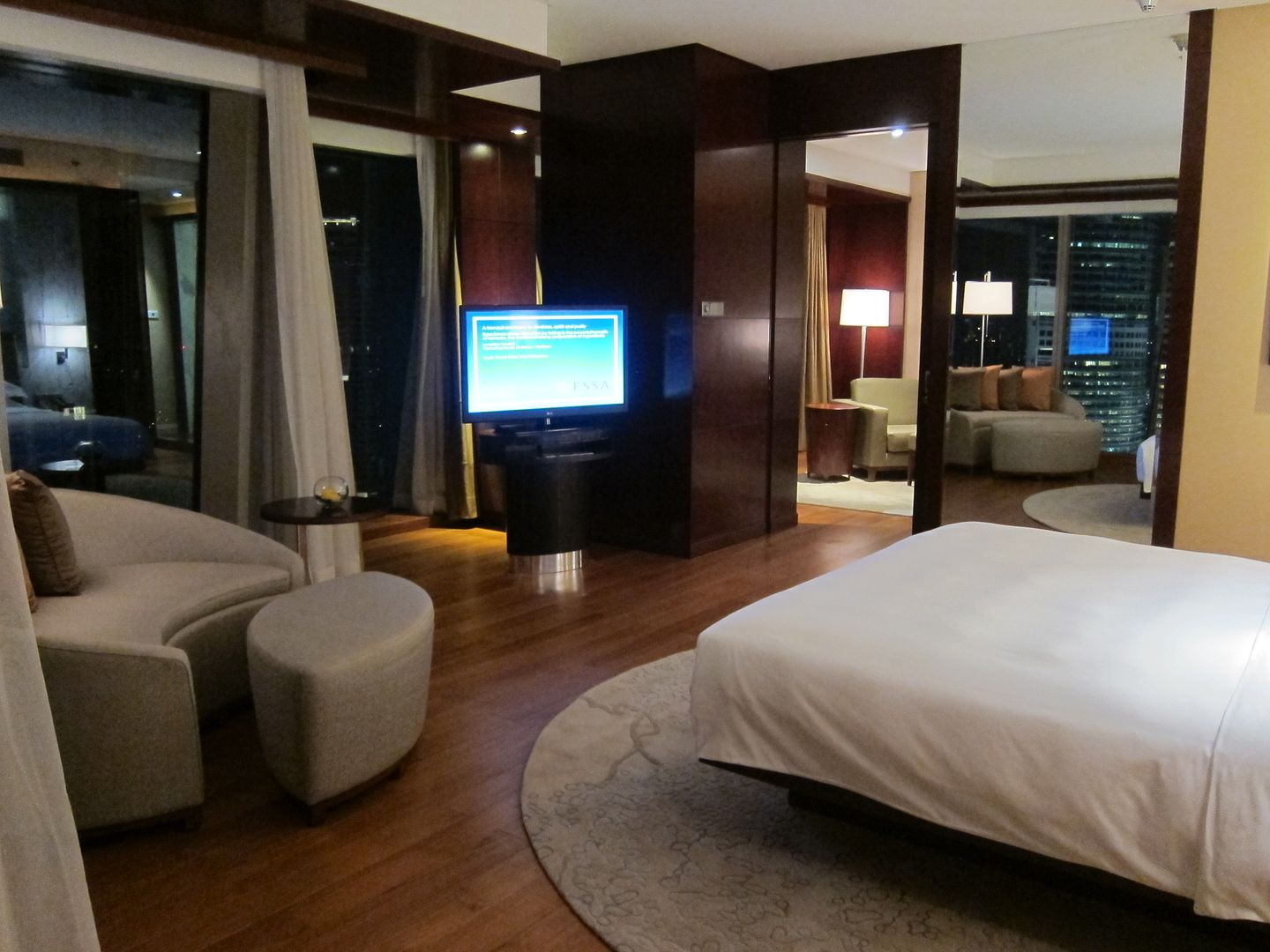 Bedroom of suite at Grand Hyatt Kuala Lumpur
So Why Do I Like It Even More Than Citi Prestige?
The Citi Prestige Card offers 50,000 points after $3000 spend within 3 months. Those points transfer to a variety of different airlines, or can be used for paid airline tickets. (Offer expired.)

Etihad First Class. This card's points transfer directly to programs like Etihad Guest which has some amazing values
This is a $450 card, but gives you a $250 airline credit (which can be used on airfare, and earned twice during your first cardmember year if you apply now) and a $100 global entry credit.
And it's even better than that. The $250 airline credit is available each calendar year. So get the card now and use the credit buying an airline ticket in 2016. And use it again at the beginning of 2017 — $500 in total credits during your first annual fee year.
The card comes with American Airlines lounge access (when flying American) and a Priority Pass Select card (with unlimited visits and 2 free guests). And 3 free rounds of golf per year, too, and 4th night free on hotel stays. Here are 15 things I love about Citi Prestige Card.
Citi Prestige earns even more points — triple, not double — than Sapphire Preferred on air and hotels. It doesn't just earn double points on dining like Sapphire Preferred, but also 'entertainment' which is a broad category.
It has even better trip delay coverage than Sapphire Preferred since they now provide coverage on trips you pay only partially with the card and you don't need to be delayed as long for coverage to apply.
I don't like that partial payment of a ticket with the card limits your coverage to the amount you actually paid with the card. So unless you're traveling to London, or paying fuel surcharges, that's going to be of limited benefit.
Here's the thing. Citi Prestige is great for people who fly American Airlines because of the American Airlines club access and because points are worth 1.6 cents apiece towards paid airfare on American. And it's great for people who golf.
But if you're not an American Airlines customer, after the first year, the card is expensive for the value proposition it offers.
At a $450 annual fee minus the $250 airfare credit it's twice as much money as the Sapphire Preferred Card.
You do still get a Priority Pass with unlimited lounge visits and two free guests. For many that alone will be worth the incrementally higher annual fee.
The point is that you have to use the card's many benefits for the fee to be worthwhile. It isn't a card you simply pick up and spend on, and value simply for the points.
Furthermore I value the Ultimate Rewards points that Sapphire Preferred earns more than the ThankYou points that Citi Prestige earns.
Both cards earn points that transfer to Singapore Airlines, Air France KLM, and Virgin Atlantic

I prefer Chase's transfers to United (Star Alliance) and Korean (SkyTeam) over Citi's transfers to EVA Air and Thai Airways (Star Alliance) and Gardua Indonesia (SkyTeam)

Citi does have the advantage with more oneworld partners — Chase transfers to British Airways, which many will prefer, will Citi offers Malaysia, Qatar, and Cathay Pacific.

Chase has a better value transfer partner in Hyatt compared to Citi with Hilton simply because Hilton HHonors has a more inflated currency, 1:1 transfers to Hilton aren't worth as much.
When I buy my airline tickets I've been using Citi Prestige. When I check into a hotel I've been using Citi Prestige. And when I eat at a restaurant I've been using Citi Prestige. That's only because I already have a million Chase points and my balance with Citibank is much lower.
I think Chase Sapphire Preferred Card is better for spending, and the Citi Prestige Card for benefits. Both have excellent signup bonuses.