The worst airline bathroom experience had to be whatever happened in the lavatory that caused a British Airways flight to Dubai to turn around and go back to Heathrow.
But I had encountered a pretty uncomfortable one yesterday myself, albeit without any diversions.

American Airlines Boeing 787 Lavatory
After meal service I decided I would get up to use the lavatory. There was a line. I was seating in a first class aisle seat, and decided to wait there. Once the line cleared up, I got up — but a passenger from coach darted forward ahead of me.
So I waited. And as I got up to go to the lavatory, another coach passenger darted forward ahead of me.
I decided my strategy had to change. I couldn't just wait in my seat for the lavatory to open up, I'd have to get up and wait in the galley. So as I got up from my seat, the woman in the window darted out of the seat ahead of me and waited in the galley.
Once she went in, I moved up to galley position. And waited. And waited. It seemed that every single passenger was taking a really long time in the lavatory.
My seat mate came out and I was about to head in, when a flight attendant quickly ran in. Seriously, you'd think I'd never done this before or that it wasn't really really obvious that I was in the queue. Still, I took it that she Really. Had. To. Go. and I respected that.
And in fact it turns out I really appreciated it because of what she brought in with her: with all of the passengers taking their extra sweet time up there, she brought in a used coffee packet and she left it in there.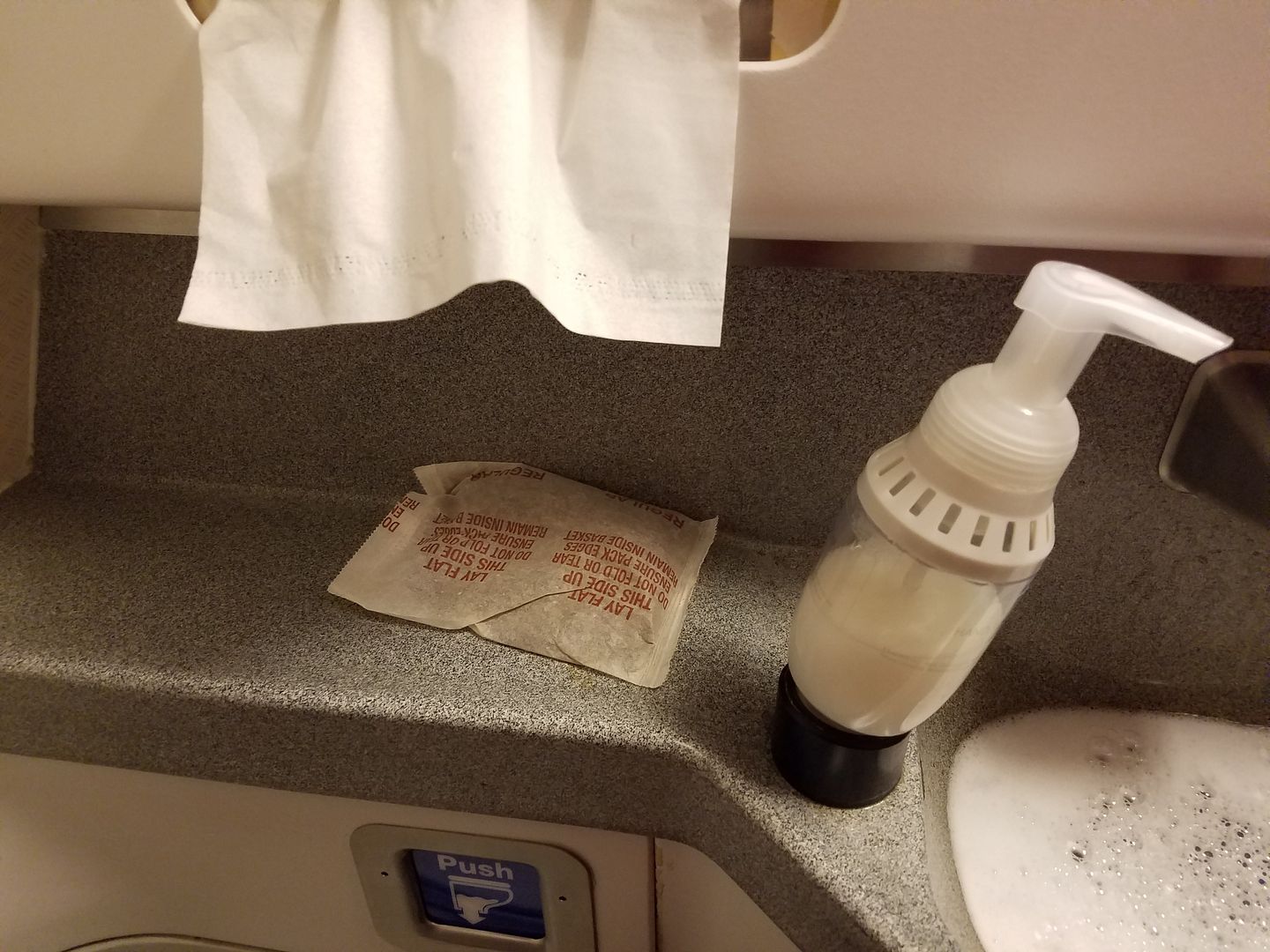 Some international carriers have a regimen of regularly cleaning their lavatories during the flight. But for American Airlines I thought this was pretty quick thinking.
A stinky lavatory isn't pleasant, and I suppose it would have been marginally worse flying American with no lavatory at all. Plus this flight's pilot's flirting didn't take the first class lavatory out of service.