Reader Susan contacted me about a problem with an award ticket she had booked.
She had business class awards flying Denver – Los Angeles – Honolulu – Sydney with travel to Honolulu on American connecting to Qantas.
She tried to rebook onto Qantas San Francisco – Sydney which was showing available. The agent changed her reservation and queued the award tickets for re-issue.
When the tickets didn't get issued, she called and learned that her reservation was cancelled. I don't know whether the agent set it up incorrectly, but they just couldn't grab the Qantas seats.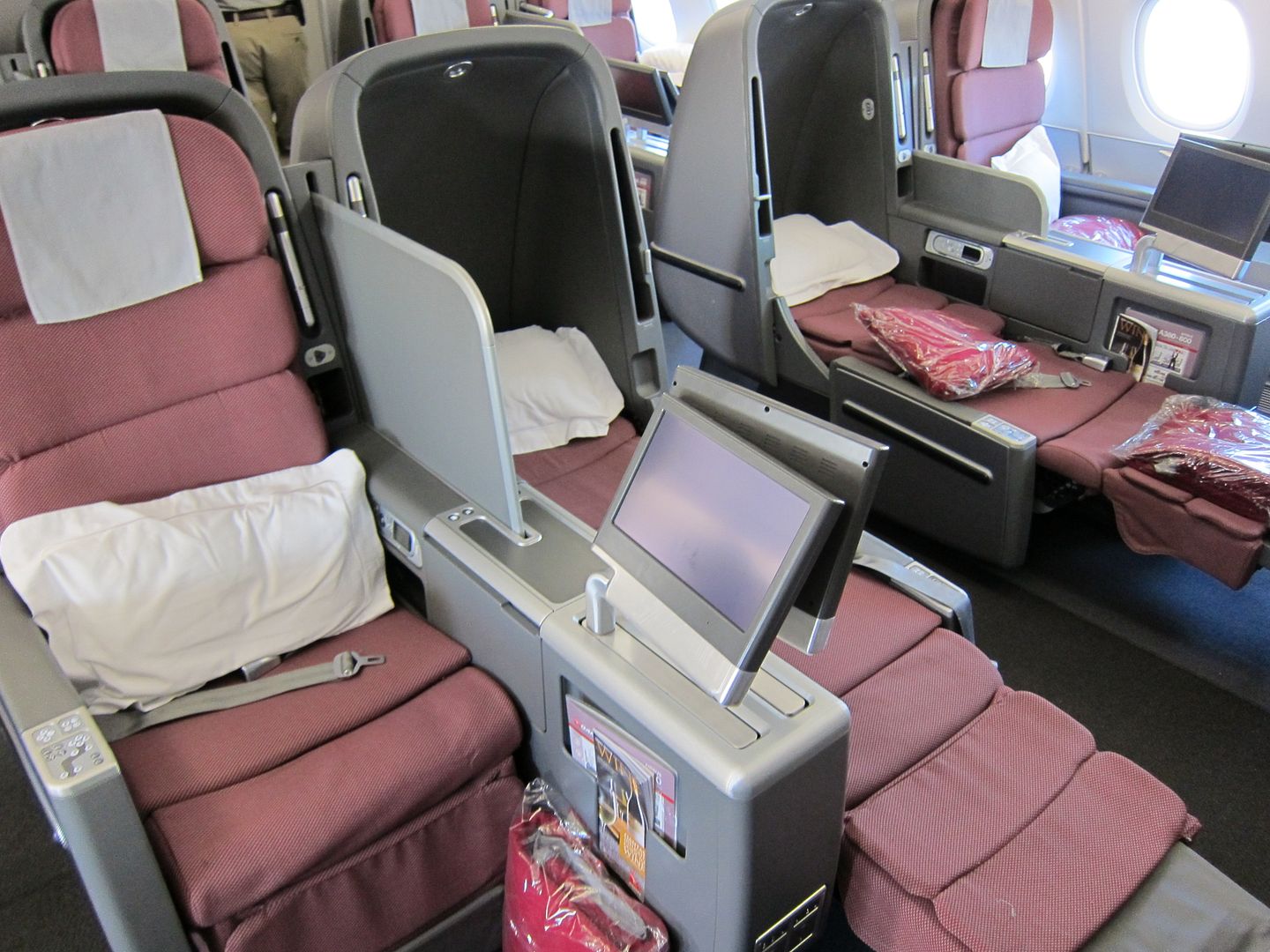 Qantas Airbus A380 Business Class (San Francisco flight is operated by a Boeing 747)
In the meantime they had lost the less-desirable itinerary through Hawaii.
She asked, "Any advice on how to approach AA to get some kind of seats for our vacation? What should we have done differently?"
I talked her through what to ask for, and she got rebooked (and in my opinion with a better flight outcome than either she had been looking at before).
Mission accomplished! AA opened space on their own metal. Awesome agent who worked until it was done. Thanks for the assist Gary.
When your reservation goes wrong, the award space you want may still be there. That's the easiest scenario, you can get it rebooked.
There may be alternate award space that's just as good or almost as good. Things happen, just take the next best alternative.
But if there's no good options available as awards for your trip – you thought you had an award booked, you're relying on that award for your travels and perhaps have already even made non-refundable reservations in reliance on that award – you have options.
When an airline partner screws up your award – perhaps there's a schedule change and you're moved to another flight in a lower class of service when there's a logical flight you could take in the same class of service – you want the airline to work with its partner or alliance liaison who will reach out to the airline you're flying to get you moved.

They can only ask, but reasonable requests for flights that aren't heavily booked will usually be honored, especially when the issue was caused by that airline.

When the screwup is on the part of the airline who booked your award – hypothetically let's say United failed to issue your award ticket in a timely manner and Asiana cancelled the reservation when they saw it wasn't ticketed – then United probably isn't going to be able to get Asiana to open up award space again. The answer is for United to open up award space on their own flights.

In other words, if you were flying Asiana via Seoul to Hong Kong in business class, United can put you in business class on their own flights even if there's no business class award space available.
You may not get exactly the flights you want. You may prefer one airline over another, and so you're accepting a second best. But when things go wrong it's all about rescuing your trip. You can't really complain to United when they're giving you a paid business class seat instead of one they had intended to make available as an award that you really prefer Asiana's food and service.
In order to get an award fixed – either via an alliance liaison or via the airline opening up award space on its own flights – you're usually going to need to talk to an agent, explain to them what happened, and get them to speak to a supervisor. Then they'll usually have to document your record, make a request and queue it for review.
Expect that anything involving an alliance liaison can take a couple of days – they need to make it into the office (they may not works nights, weekends). Then they'll need to communicate with their counterpart at the other airline who may be in a completely different time zone. The game of telephone with two cups and a string can take some time. Getting space opened up sometimes can be done quickly, other times can take a day or two as well.
Nonetheless, these are the things to push for and they're usually successful in my experience.
In Susan's case she's going to fly Denver – Los Angeles – Sydney, saving a connection over her original itinerary. And flying American Airlines business class, she'll have not just fully flat seats non-stop between the US and Australia but all aisle access and an aircraft with internet. American's business class seat is much better than Qantas' in my opinion.

American Boeing 777-300ER Business Class

American Boeing 777-300ER Business Class
And American has upped their game on the route, with better food and pajamas in business.

American Business Class Dinner, Los Angeles – Sydney