Last night I shared a rare find, that Lufthansa first class award space for 2 passengers at a time is available far in advance even when booking using miles from one of their partner airline programs like United, Singapore, Aeroplan, or ANA.
Between mid-January and the end of March more flights between Denver and Frankfurt have this space than do not.
That's a great opportunity, but maybe you like I don't have a need to book a Europe trip presently. Consider extending this trip and just routing to Asia via the Atlantic. That means you can combine Lufthansa first class award space with first class on Asian airlines, try out first class on some combination of Thai Airways, Asiana, and Air China — not just Lufthansa.

Combining Lufthansa First Class Award Space: Finding Amazing Availability from Frankfurt to Asia and Back in First Class
Here's availability for 2 passengers in first class, Thai Airways Frankfurt – Bangkok.
If Frankfurt – Bangkok availability doesn't like up nicely with the dates you're working with Denver – Frankfurt space, you can consider flying Frankfurt – Munich (use the First Class Terminal!) – Bangkok, Frankfurt – Rome – Bangkok, Frankfurt – Paris – Bangkok, Frankfurt – Zurich – Bangkok … because Thai Airways first class between Europe and Bangkok is generally pretty available when booking several months out (as well as very last minute).
Maybe instead you fancy trying out Asiana first class Frankfurt – Seoul. You could just go to Seoul (or beyond, in North Asia) or stopover or connect onward to Bangkok from there.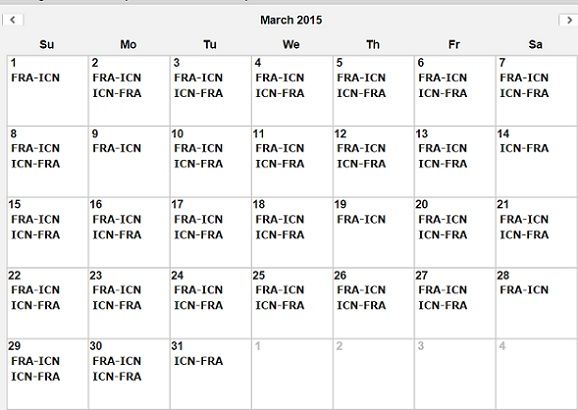 Another option entirely would be to fly Air China first class from Frankfurt to Beijing. That availability is fantastic as well (and, of course, you can fly beyond Beijing to elsewhere in the region).
Combining Lufthansa First Class Award Space: Who Lets You Do This, and How Many Miles Does it Cost?
Routings like these are generally permitted. For instance, it's actually under the allowable mileage (for those programs that used mileage-based routing rules) for Denver – Bangkok to fly via Frankfurt and Seoul. Aeroplan even lets you exceed the traditional 'permitted mileage' by 5% so there's more miles to play with.

You'll see the distances for Denver – Frankfurt – Seoul, stopover, Seoul – Bangkok, Bangkok – Frankfurt – Denver. Of course you can also play with adding connections to and from Denver, or travel somewhere beyond Bangkok.

If you're going to take this route, consider using United miles. United charges 120,000 each way between the US and North Asia (like Seoul or Beijing) and 130,000 each way between the US and South Asia (like Bangkok). That's a lot of miles.
Aeroplan, in contrast, charges 105,000 miles each way between the US and 'Asia 1' (which extends as far South as Singapore). And they add fuel surcharges. So the mileage savings compared to United may not be worth it to you.
Similarly, here's the ANA award chart. You look at the total roundtrip distance of your itinerary, and find the distance band on the chart to see how many miles it will cost. Remember that ANA, an American Express transfer partner, doesn't get points into your account instantly and does add fuel surcharges to awards.
Singapore Airlines charges 100,000 miles plus fuel surcharges each way between North America and North Asia 2 (eg South Korea, China) and 112,500 between North America and South Asia 2 (eg Thailand). Awards have to be booked by phone and fuel surcharges apply.
Considering that United charges 110,000 miles each way just for Denver – Frankfurt, this is a pretty good deal to extend the trip.
The same is true for Singapore miles, going from 80,000 to 100,000 or 112,500 each way to add Asia into the award.
In contrast if you're using Aeroplan points, likely transferred in from American Express, you're spending a meaningful amount of extra points. The same is true if you're spending miles with ANA, since their chart is distance-based and you'd be doing a whole lot of extra flying.
---