Yesterday Starwood unveiled a bunch of website revamps and improvements. I've already written about changes to the SPG Moments page which lets you buy or bid on experiences with your points.
Another thing that has changes is the launch of SPG Preferences.
Six weeks ago I broke that this was coming. Here's how I described it then,
Chris told me that they're making "significant investment in suite night awards.. Over the next few months more to share."

He also noted that "rolling out in October is 'SPG Preferences'"

Members will be able to select their core preferences either globally in their account, or varying for each individual stay (recognizing that needs can change by trip).

Starwood is adding upgrade preferences so that members can specify that perhaps they want the first available room as quickly as possible, or maybe what's more important is view or room size.

Come mid-October they're going to start capturing this information for every Platinum member.
With the website update, they've now launched SPG Preferences.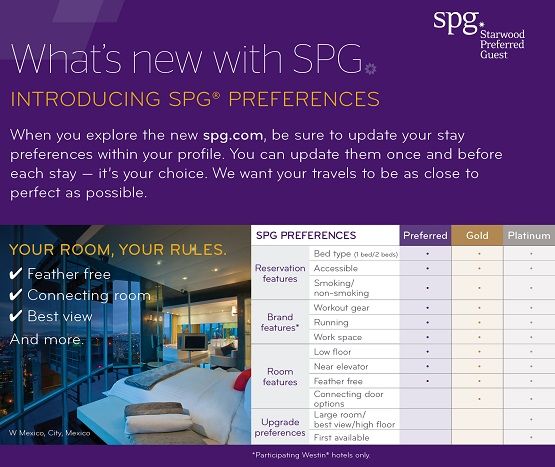 Here's what they offer to customize, based on your SPG elite status level.
You can update your choices at Starwood's preferences page in your account.
One comment by reader beachfan last month captured what many may be thinking,
I'm a Starwood loyalist, but what's above sounds like I can be more specfic about upgrades I don't get.
Starwood is promising improvements to the overall upgrade experience as well in the near future, but this is a reasonable response — it's hard enough to get an upgrade, let alone to one on a low floor near an elevator.
The real challenge here is that the decision-tree of preferences will vary from person to person. You might want a low floor not near an elevator but would take such a room if you can get a good view in a large room. The boolean nature of the preferences is where this gets difficult because there can be tradeoffs among the preferences.
I tend to think of these as preferences for when a real upgrade isn't possible. It will be interesting to see how this is implemented and interpreted at the hotel level when pre-blocking rooms.
Still, I certainly applaud Starwood for continuing their effort to customize the guest experience. Taking preferences is one thing though. Accommodating preferences is the real point, so we'll see how they do!
---