I almost called this post 'Sarcastic Shock #2' — Star Alliance member Avianca is offering a 100% bonus on purchased miles in its LifeMiles program through September 30.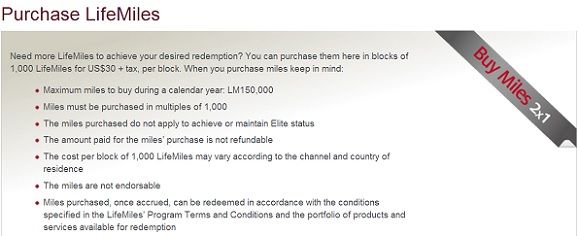 You can purchase up to 75,000 miles and receive 150,000 miles — at a cost of $2250 or 1.5 cents per mile.
I don't like investing in LifeMiles speculatively: Last May they tweaked some award prices without notice and increased the cash cost of cash and points awards as well.
We got advance notice this time, but there are big award chart changes coming October 15.
When Avianca joined Star Alliance I declared their program the most generous in the alliance. After United's February devaluation, that's likely true. They are part of my "Devaluation Plan B" which is to look to international frequent flyer programs for value if and when US programs devalue further.
There are no fuel surcharges, they offer one-way awards which are priced reasonably, and as with this offer they sell miles cheap. They also offer 'cash and points' which means that as long as you have 40% of the miles needed for an award you can buy the rest at the time of redemption for just over 1.5 cents apiece.
That said, their call centers are frustrating (if you can wait a day for a reply, they're better over e-mail) and they don't permit "mixed cabin" redemption — so if you are redeeming a transatlantic business class award, all segments need to be in business class (including domestic US flights, and intra-Europe flights).
But the price of purchased miles goes up 10% at the end of September. So this is your last chance to buy these points at 1.5 cents apiece, most likely, if you're inclined to play their game.
(HT: Lucky)
---