I've been writing a ton about new Star Alliance airline EVA Airways over the past two weeks.
I noted briefly just how amazing their award availability is back on June 19.
Taipei-based EVA Airways has joined the Star Alliance and is a truly awesome 'get' — business class award availability is really, really good and thy fly to Toronto, Vancouver, New York JFK, Los Angeles, San Francisco, and Seattle. Another great way to get between North America and Asia and with a really stellar inflight product. I've found the Aeroplan website good for searching space, along with the ANA website. I was unsuccessful pulling up available space at United.com yesterday.
I shared some of my frustrations with United's call centers getting EVA Airways awards booked, since the flights couldn't be found at United.com.
Nonetheless, it's been absolutely worth the effort because EVA Airways has been the award you can almost always get. I surveyed various routes and identified just how often the space is bookable. There are even routes where you can get 2 business class awards on EVA literally every single day. And I produced award calendars to prove it.
As of yesterday the seats could not be booked at United.com. Fortunately United phone agents have universally been willing to waive the telephone booking fee for folks whose awards I've been ticketing.
Now, via Ismael S., EVA Airways awards have been incorporated into the award search capability at United.com.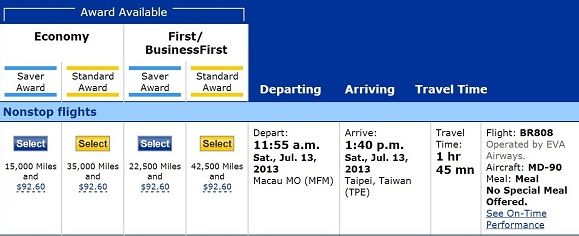 On the one hand it makes the awards easier to get.
On the other hand it makes the awards easier to get.
Great for whomever finds the seats, it is easier.
Not so great for whomever is looking for the seats, because more of United's 80 or 90 million members will see them and gobble up space. Most people don't know that you should call to check availability and not just rely on what the website says is possible (that is, if you don't know how to find the seats on your own and call up to request specific flights you already know are available).
So the great award seat bonanza is likely to become bookable by more members, and not just those in the know.
But EVA is a great partner — a great quality product plus the only airline I'm consistently able to find premium cabin seats on between Asia and the US pretty much every day of the year, even on the peakest of peak dates.
Update 7/3/13 6:55am Eastern:: And… United.com is no longer showing EVA Airways award space.
---
You can join the 30,000+ people who see these deals and analysis every day — sign up to receive posts by email (just one e-mail per day) or subscribe to the RSS feed. It's free. Don't miss out!