I've discussed at length the American AAdvantage distance-based oneworld awards (now called oneworld explorer awards) in the past.
In addition to the 'normal' way you can book an award, with the mileage cost based on the 'region' you start from and end in (which is subject to all sorts of rules, like you can't fly from North America to Asia via Europe, there has to be a published fare between your starting and ending cities, etc) American will allow you to base the mileage cost of your award based on the distance that you fly as long as you only fly on oneworld airlines (and not their other partners like Alaska Airlines or Etihad) and fly on at least two different oneworld airlines (not counting American).
The addition of Malaysia Airlines into oneworld has me contemplating making use of this award… to travel to Europe (and stopover — you are allowed stopovers on these awards without spending more miles) and also Asia.
Here's the trick. I want to keep the award under 20,000 flown miles, a real sweet spot in their award chart: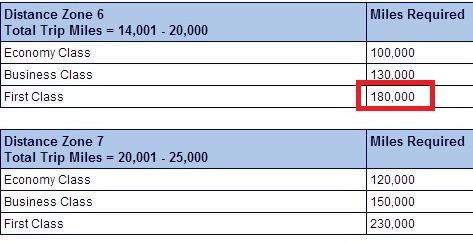 For 180,000 miles I can fly first class for up to 20,000 miles. And I can mix and match airlines and route just about any way that I want. (For complete rules and restrictions, see my earlier discussion.)
My thought is to fly British Airways first class to Europe (this entails fuel surcharges, but it's manageable if I fly them one-way only and as long as I don't stopover in the U.K. I save big on the extortionate airline passenger duty a.k.a. premium cabin departure tax).
Then I would stopover in Paris, I really enjoyed my recent stay at the Park Hyatt Vendome on points.
The thinking about Paris — in addition to avoiding the UK luxury tax on premium cabin departures — is that Malaysia Airlines often releases a single first class award seat at a time on each of their two daily London – Kuala Lumpur A380 flights, but they seem to release up to four first class seats at a time on Paris – Kuala Lumpur.
So after flying British Airways first class I would add on Malaysia's first class.
And route back to the U.S. on Cathay Pacific — flying to Hong Kong on either Cathay or Malaysia, and the Cathay back to the States.
Here's the mileage flown that would entail:
I haven't decided where I'd stay yet or what I'd do. I'd likely go beyond Kuala Lumpur (although at least stopover for the food)…
… and stop in Hong Kong as well, perhaps taking the opportunity to return to do some eating in Macau (and this time staying at the Grand Hyatt there).
The nice thing is that all three first class products are fairly easy to find space for, at least relative to the difficulty in securing premium cabin award space on other carriers and through other alliances.
That's my musing about an upcoming redemption. In part I do want to try Malaysia Airlines. I also like to add stopovers along the way. And this owuld be predominantly first class flying, and a reasonable bit of it.
Pricing the awards separately would cost 62,500 to Paris, 70,000 miles from Paris to Malaysia, 32,500 for Kuala Lumpur to Hong kong, and then 67,500 for Hong Kong back to the States… for a total of 232,500 miles.
The oneworld explorer award will save 52,500 miles for the trip (although if I nixed the Hong Kong stopover that would mean building the trip piece-by-piece would cost 200,000 miles… meaning the distance based award would be saving me only 20,000 miles).
Oneworld explorer distance-based awards are great for adding stopovers, since they aren't pricing each stopvoer as a separate one-way. The more stopovers, the greater the savings (you can have up to 16 flight segments and as many stopovers as you wish within that limit).