I think we've created a monster. The April Frequent Traveler University in the DC area is sold out, with 650 people expected to be in attendance.
Since tickets are freely transferable, I mentioned yesterday seeing a scalping offer online of $200 for a ticket (!).
Now I'm seeing something that I truly never thought I would see. A Frequent Traveler University ticket up for auction on eBay.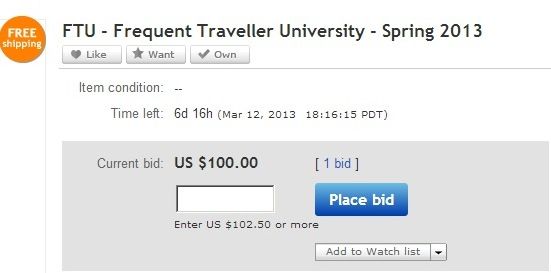 That's why we wanted to make details known about the September event. You may not be able to buy tickets to April's FTU, the largest frequent flyer gathering to date. But it's not your last change to join in one of these gatherings, meet great friends, exchange tips with frequent flyers, and hear from experts. September 27-29 at the Grand Hyatt Tampa Bay will be your next chance!
Tickets are now available for purchase.