You have to be logged in to see the bonus that you are offered. When I go to the purchase miles page I am asked to identify myself:
This is in order to discern the offer they are targeting me for this month. It appears everyone will be offered a bonus of some sort — in amounts that vary, ranging from 25% to 100%.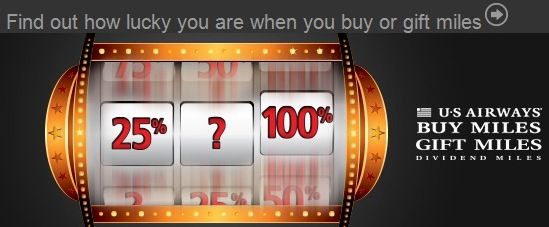 My own offer was:
Lucky You! You're eligible to receive 75% in bonus miles when you buy miles today!

Hurry, this bonus offer ends March 31, 2013.
A 100% bonus means you're buying miles at 1.88 cents apiece, which I generally consider to be worthwhile if you have a specific award in mind to book. Find the availability in an international premium cabin, set up the award, and then buy the miles.
And the bonus can be worth it for topping off an account towards a specific award goal.
But anything less than a 100% bonus I wouldn't purchase with any degree of speculation — at a minimum, unless and until we can no longer count on a 100% bonus being offered most of the time or at least regularly.
Given that a 100% bonus is offered frequently, I wouldn't "stock up" on miles at less than a 100% bonus. And lower bonuses make the transaction too expensive to me.
Log into your US Airways account and see what's offered to you. The only reason I would buy miles with a bonus below 100% is if I had a specific need, this month, for the miles.