British Airways offers three times a week service between Las Vegas and London's Gatwick airport (they offer daily service to Heathrow).
The Gatwick route must not be doing well, because are offering a 15% discount on the points required to book this Vegas-Gatwick flight.
The 15% discount is for bookings made by February 28th and travel through March 31st. All cabins are included in this offer though the flight does not have a first class. And because of high fuel surcharges I don't find Avios redemption for economy to be worthwhile. Business class is where I would focus. This can be booked online or by phone (though phone bookings incur a fee).
The discount applies to awards and not to upgrades. You can discount the mileage cost of a miles and money award, but the discount doesn't reduce the cash portion of that award. And the discount doesn't reduce taxes and fuel surcharges.
A business class award is normally 50,000 points each way, so a roundtrip award under this offer would cost 85,000 points plus taxes and fuel surcharges.
Fuel surcharges run $904 for a roundtrip business class award, and you pay the UK's "Air Passengers Duty" often referred to as the 'premium cabin departure tax' which will run $204. All in taxes look to be about $1184.50.
Still, British Airways has at least 2 business class award seats available on most dates during the promotion period. Which shows how lightly booked the flight is, consistent also with why they're offering to discount these awards.
Here's a calendar of dates available for 2 business class award seats from Las Vegas to London Gatwick in February:
And in March:
For the reverse direction, here's current availability for London Gatwick – Las Vegas in February: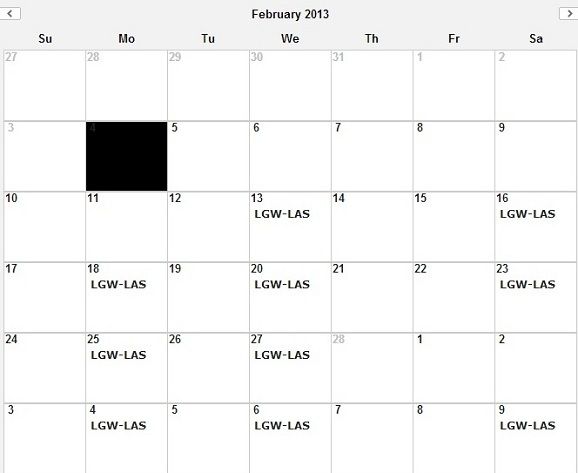 And in March:
(Award calendars courtesy of Award Nexus)