American is offering double elite qualifying miles and double redeemable miles (Registration required.).
Everyone earns double elite qualifying miles throughout November and December.
Current elite members earn double redeemable miles as well for the entire promotion period. Current non-elite members receive double elite qualifying miles for all of November and December and double redeemable miles only between November 16 and November 26.
The promotion code, AATHX, is the same for both offers. Here's the non-elite offer description and the elite member offer description.
Key rules:
All published fares are eligible.

Tickets purchased prior to registration are eligible — sometimes these promos apply only to travel booked after the offer was announced (to ensure they are rewarding only purchases whose decision was influenced by the offer) but this one is more generous.

And as long as you register by midnight Central on December 31, you'll earn retroactively for all travel during the promotion period.

Bonus elite qualifying miles do not count towards million miler status
It Was Nearly a Foregone Conclusion That They Would Make This Offer
One of the strongest value proposition an airline has during bankrutpcy is their frequent flyer program.
And with recent operational challenges, members have likely been booking away to some degree. So the airline may be below their projection of the number of elites they would be expecting to have for next year at this point.
Encouraging members to fly towards the end of the year — likely heavy busienss travelers at a time that there's traditionally a meaningful dip in business travel due to the holidays — is a no brainer for an airline in American's position.
They wouldn't have wanted to announce this while their pilots were behaving badly and causing delays and cancellations. But now that the operation has much improved, they can come out with a big splash, which they've now done.
This is a Great Opportunity for Folks Considering Leveraging to a Higher Elite Tier
While airfares overall are historically quite high, at least in nominal dollars, with traveling dipping seasonally there are some airfare bargains to find.
And incremental flying pays off like at no other time. An American Platinum or Executive Platinum member, who normally earns double redeemable miles for their flying, will earn triple redeemable miles during the promotion period. With a decent airfare the value of miles earned for a trip can be equal to the price of the tickets, the trips become almost free. And the more flying, the higher status earned.
American's elite levels are especially rewarding — especially mid-tier and top tier status.
American is the only major US airline that does not offer unlimited complimentary upgrades to all of its elites, only Executive Platinums receive free automatic upgrades on domestic flights. But that's actually a very positive thing for mid-tier Platinums.

It's tough to be a 50,000 mile flyer on Delta or United and get upgraded on many routes, because you're competing against every 75,000 mile flyer and every other 50,000 mile flyer every time.

American's 50,000 mile flyers pick and choose carefully when to upgrade because the upgrade comes at a cost (either in terms of the 500 mile upgrades they earn, or having to buy more). An American Platinum is on the whole going to have a better shot of getting upgraded when they put in the request than a similar elite on another airline.

American's Executive Platinums — 100,000 mile flyers — are actually top tier. On United, 100,000 mile flyers are below their revenue-based Global Services elites. Not so with American, where the revenue-based recognition level Concierge Key doesn't mean trumping for upgrades. And the level is generous with 8 confirmed international upgrades from any fare.
Double Elite Qualifying Offers are a Net Negative for Members that Already Re-qualified for Top Elite Status
This offer is on net probably bad for members like me who re=qualified for top tier elite status by the middle of the year. I'll earn double miles on my paid travel in November and December, but that's also when I'm doing a good bit of my award travel.
So what it means for me is a whole lot more people earning Executive Platinum and competing with me for upgrades next year than there would otherwise be. (That said, one imagines that the number of top elites is depressed somewhat relative to expectation as a result of recent operational challenges, so it's unlikely to have a substantially negative effect.)
What does present an upside for me and those in a similar spot is the chance to earn bonus rewards for going beyond just re-qualification, since this offer applies not just to elite qualifying miles but also elite qualifying points (which are what are used to qualify for the bonus rewards).
Offer Applies to Qualifying 'Points' Not Just Miles: Qualify for Status or Earn Bonus Rewards For Going Beyond Qualification
The offer applies not just to elite qualifying miles but also to elite qualifying points.
Points are an entirely different way of qualifying for elite status, a parallel track that attempts to recognize revenue rather than quantity of flying. Some airlines emphasize revenue by penalizing qualifying miles on discounted fares and bonusing qualifying miles on full fare and premium tickets. American doesn't do that, they just offer two paths towards status.
Most coach fares earn one point as well as one mile. Full fare coach and premium cabin fares earn a 50% bonus, while the cheapest coach fares only earn half a point.
Here's the chart of points earned per mile flown.
Under this double qualifying offer, full fare tickets earn triple points towards status. And the cheapest tickets earn full points.
For the most part this isn't helpful to me. I fly mostly domestically on paid coach tickets, a mix between the cheapest and mid-priced tickets. So I qualify for status on miles, while my points total is substantially lower.
Which means that normally, American's Elite Rewards for going beyond qualification with additional flying are out of my reach.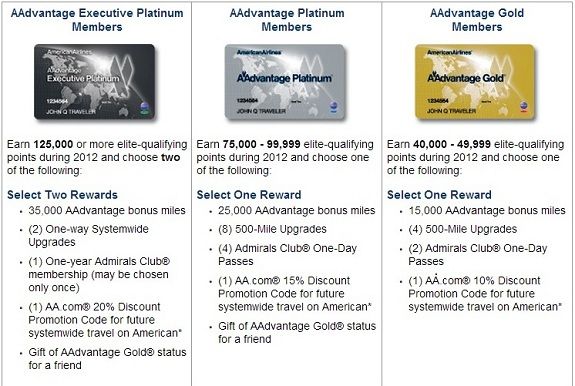 Executive Platinum members who reach 125,000 points can choose two of 35,000 bonus miles; 2 systemwide upgrades confirmable on any paid fare; a lounge membership; a 20% discount on a future ticket; or gifting a Gold membership.

Platinum members who reach 75,000 points can choose one of 25,000 bonus miles; (8) 500-mile upgrades; 4 lounge day passes; a 15% discount on a future ticket; or gifting a Gold membership.

Gold members who reach 40,000 points can choose one of 15,000 bonus miles; (4) 500-mile upgrades; 2 lounge day passes; a 10% discount on a future ticket.
Registration for Elite Rewards is required by December 15 with promo code ELTA2, and it's a separate registration from the double miles offer.
American Has Come Out Guns Swinging for the Last Two Month of the Year
Anyone close to status with American should take a hard look at reaching a higher status with this offer. Existing elites will find it exceptionally rewarding to fly on paid tickets through the end of the year.
With others flying more to achieve higher status, it's more important than ever to reach a higher level of status yourself to be better positioned in the upgrade pecking order during 2013.
Now I have to evaluate my own flying to see whether I'm in striking distance of 125,000 points to earn a bonus reward, now that I'm going to face more competition for 2013 upgrades than I would have had American not made this offer.