Club Carlson is adjusting hotel categories for 270 properties.
This begins May 31, and at first glance doesn't represent any sort of devaluation.
First, at least there's a couple weeks' notice. I like more notice, but good to get this out there transparently and in one easy to read chart and in time for folks to make bookings at current rates if they're interested in a hotel whose award cost is going up.
Second, kudos for making these changes before folks have made a whole bunch of stays in the monster bonuses which started running today.
Now, that Club Carlson was running huge bonuses was enough to tell me they weren't going to undercut their own marketing investment by gutting the program just as that was getting underway. And the fact that they're making this adjustment now also tells me that they won't do it again right after the promotion ends, either! So we're all good there, at least for awhile.
Looking at the spreadsheet it strikes me that not a whole lot is changing. Of the 270 hotels changing categories, 128 are going down and 142 are going up. Some go up or down more than one category, but on net adding together all the category drops and category increases generates a net +10 in category hikes. Overall that's noise. Their award chart is staying constant, no stealth devaluation here.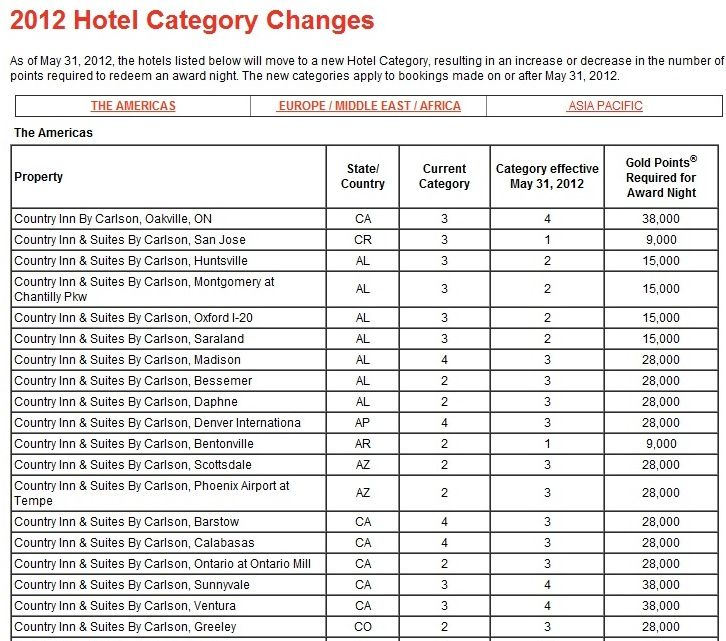 Particular properties are going up of course, and so for people interested most in those it's a personal devaluation for them (just as the program just got more valuable for others interested in hotels where categories have dropped, especially where they've dropped more than one notch.
Looking at the 142 properties going up in price,

17 were category 1s

59 were category 2s

35 were category 3s

22 category 4s

9 category 5s
So we're not even looking at top-heavy increases, properties being pushed into the upper end of the redemption chart. And I especially like seeing 5 Radisson Blu properties dropping out of category 6!
(HT: Mommy Points)