Via Today in the Sky, airfares have continued to decline in real terms – prices had already fallen by more than a third between 1977 and 1992 and new Bureau of Transportation statistics data shows that prices are now lower still.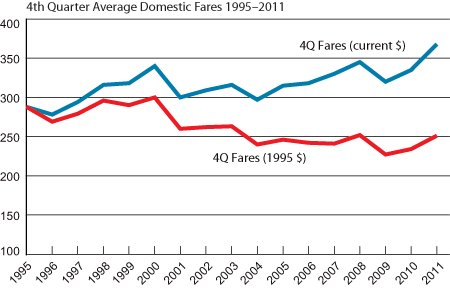 Now, fares are up 10% in a year. And fees are up too. But it's hard to get too excised about that given the long run trends. (Fuel) costs are up markedly as well.
According to this report, Cincinnati is the most expensive airport to fly in and out of. Nate Silver would think that means the pricing is unfair, but if it were somehow uber-profitable to be flying Cincinnati routes then Delta wouldn't be pulling back from the airport, and certainly other profit-hungry airlines would jump in and ramp up service to take advantage of above-normal profits.
Atlantic City had the lowest airfares. As much as I complain about Spirit Airlines, and as much as average fares obscure travel cost with them because of their myriad fees, I think this is about as strong a case for the existence of Spirit Airlines as you can possibly make.
It's interesting to observe that the phenomenon of airline fees isn't a new one, the percentage of revenue earned by airlines from their fares has been on the decline for 20 years, is slightly higher now than it was in 2009, and has remained roughly steady over the past five years.
The report alone doesn't indicate this, but it also strikes me that Ft. Lauderdale has some of the lowest fares in the country. It's largely a leisure market, to be sure, and that helps drive airfares downward. But it's also a low cost airport. Airlines like Spirit prefer it, and airlines like Virgin America and Alaska fly there precisely because of lower operating costs than nearby Miami. American dominates Miami and can subsist there because of Latin American feed, but for domestic operations Ft. Lauderdale ought to be preferred by both passengers and airlines, and that mix generates low fares.
I want to noodle on the fact that over the past 11 years airfares have increased the most in airports with a significant Southwest Airlines presence like Dallas Love Field and Houston Hobby, the rest of the top 5 are consistent in Burbank, Reno, and El Paso.
Interesting data and always useful to have context for discussions of airfares.