I had come across a very cheap first class fare and made a trip down to Florida (I purchased the tickets at $256 all-in, by the time I posted the deal it was $309, still a value). Of course, the fare was on US Airways.
Now, I understand their desire to cut costs in all dimensions. Their stock symbol is LCC after all! And their current market valuation is not just lower than other mainline carriers, it is actually substantially lower than niche players like Hawaiian Airlines. True enough, this is an airline with problems.
But the low levels of service provided by their flight attendants on this trip can't really be justified by cost cutting, the airline is paying the flight attendants the same amount whether they service passengers or sit in the galley reading magazines. Perhaps the workforce is just too darned demoralized.
First, meals, and I recognize that is a cost issue. I had a 2pm and 2:45pm departure, but on flights over 1000 miles. No meals were served in either direction. One pass awas made with the snack basket — sun chips, granola bars, cookies, peanuts.
Second, drink service. On the outbound a predeparture drink was served. Not so on the return. After takeoff a drink was offered, both flights only one single drink service was ever provided on a two and a half hour flight. Since I was pinned into my seat (see below) I had to ring the call button to get some water… Oh, and the drink I ordered both ways was a bloody mary. The first time I got only Mrs. T's mix, no salt.. No pepper.. No tobasco.. Nothin'. On the return I got a wedge of lemon to go with the Mrs. T's. Thanks!
Third, legroom. Seatguru says US Airways offers 37 inch pitch in first on their 737s, which is an inch less than standard. I don't buy it, it felt the same as the 34 or 35 inch first class on a Northwest DC-9. Or maybe they just offer substandard pitch and better than average recline?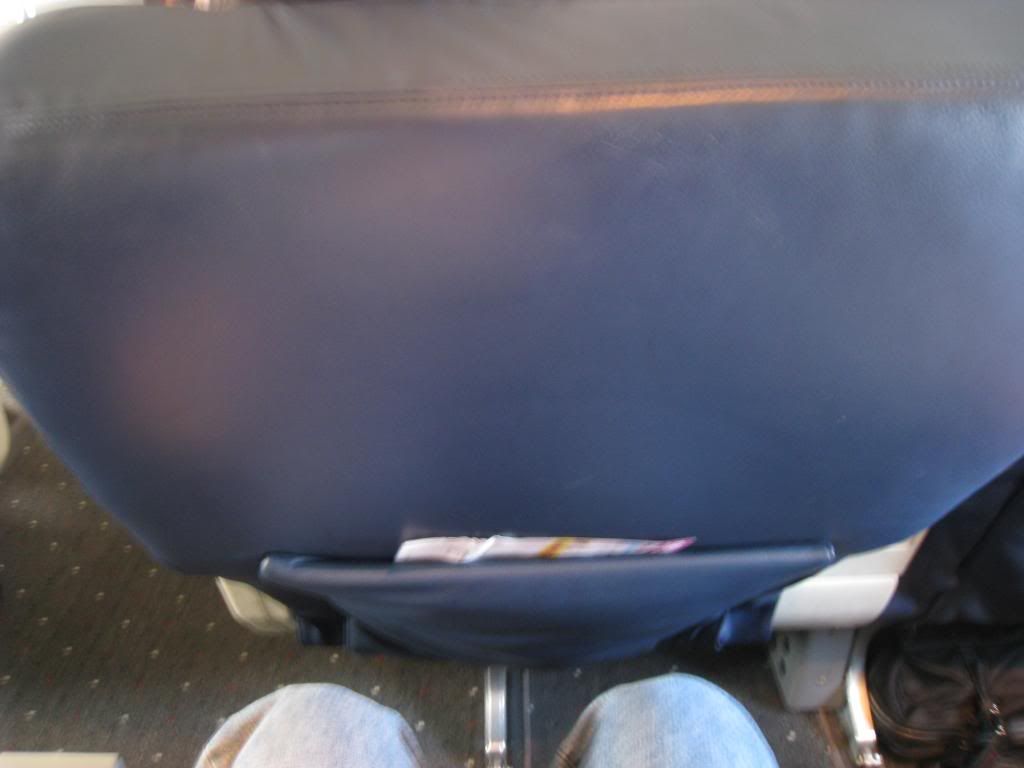 No wonder there were empty seats in first after clearing all the upgrades. On the outbound they added a last minute non-rev to the cabin, and on the return there was a non-rev and an operational upgrade. The 'op up' traded seats with… Another non-rev in order to sit back in coach with her fiance. (Though I can't imagine she's marrying the guy, he was apparently whining how unfair it was that she got the upgrade and he didn't, and he was happy to have her downgrade herself.)