A couple of weeks ago I revealed a bunch of Holiday Inn Express secrets – the things they tell their hotel owners, and what those hotels are required to do for guests and for the chain.
Simon L. points out to me that a similar document is available for Club Carlson as well (.pdf). It's fascinating reading and explains how the loyalty program works from the perspective of a hotel and its requirements to the chain. That's useful for a guest — to know what they're entitled to — and a points strategist, to know the economics of the program.
The document spells out the details of upgrades, early and late check-in and out, and breakfast. It explains how much hotels get reimbursed on awards, and what they have to pay to award miles to members. And I read the very long document, to provide the juicy details to you!
This is what hotels pay Club Carlson for points earned from stays.
These hotels will be assessed a fee of 4.75% of the gross room revenue or the total package revenue for the first USD 300 per night and 3% on any gross room revenue or the total package revenue USD 301 and above, as averaged for each Club Carlson member's qualified stay to fund the Program. In addition, Club Carlson members will also earn 20 Gold Points per USD on food and beverage revenue at in-hotel restaurants charged to their room during a stay at a hotel. Hotels will be assessed a fee of 4.75% on food and beverage revenue for the first USD 300 per night and 3% on any food and beverage revenue USD 301 and above, as averaged for each member's stay
Other points — hotel bonuses, planner points, etc. — cost $0.002 per point.
This is what hotels get reimbursed for award stays, on nights when they aren't fully booked.

Hotels are assigned to categories based on room rates and mushy factors.
Hotels are assigned to, and must participate in a program Category, which is based on several factors, including but not limited to,
an adjusted ADR. Hotel Categories ADR ranges will be revised annually
Award nights get last room availability, but when the hotel is full Club Carlson pays them more.
The free night award rate is in the "Q" Rate Tier and therefore is open for last-room availability. There are no blackout dates. Remember – your hotel is reimbursed at ADR for any redemption night when your hotel is 95% or greater occupied
Here's how cash and points works:
Members may redeem a specific number of points, based on your hotel's category, plus pay cash which is equivalent to 40% off the daily Rack Rate, for a room night at all Carlson Rezidor hotels worldwide. Since the Points + Cash rate is attached to your hotel's Rack Rate, the cash portion of the award will automatically adjust to high and low demand periods.
And here's what hotels get — basically they get 40% of their room rate direct from the guest, plus a small reimbursement:
Here are the 'Express Awards' that Club Carlson recommends hotel make available: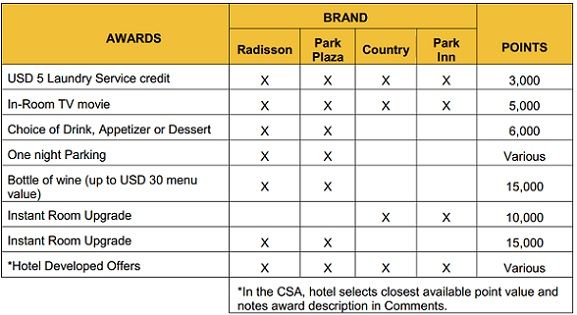 And here's how they work in terms of hotel reimbursement:
The value of the Express Award to the guest must be equivalent to the hotel reimbursement or higher. The chart shows the limited point levels available on the Express Awards drop down menu in CSA. Make sure to "price" all your Express Awards at one of the price points shown on the chart. These are the point increments available to enter Express Awards redemptions into CSA.
And how much hotels get paid:
Club Carlson advises that member recognition drives revenue.
This is how program members are supposed to be recognized at check-in:
How can you recognize Club Carlson members at your hotel?
o Say their name at check-in
o Welcome them back
o Recognize their status
o Confirm you have their membership number

Use these tools to help with Recognition:
o Club Carlson Check-In Scripts (Flashcards)
o Club Carlson University
o Carlson Learning Network (CLN): Introduction to Club Carlson
o Member In-Hotel Benefits Checklist
o Opera Membership Stays Report
o webFOCUS Elite Pre-Arrivals Report on CONNECT
o Customer Service Application (CSA) (to verify a members level)
o Alerts in the Opera PMS identifying members
The upgrade benefit at Club Carlson hotels is spelled out
The upgraded room for Silver and Gold Elite may include a preferred view, higher floor, newly renovated or corner location. Concierge Elite members should be upgraded to the next room category whenever possible, including standard suites. Room upgrades are limited to one room per member per stay.
Early check-in and late check-out is available to all elites,
Elites get 2 hours before check-in time and 2 hours after check-out time, provided rooms are available (the benefit is not guaranteed).
Give all Elite members early check-in / late checkout upon request (if available)

For Club Carlson Elite members, reservations with a credit card on file are eligible for priority early check- in. Priority early check-in is to be honored up to two hours prior to the hotel's published check in time. Club Carlson Elite members may check out 2 hours past the posted check out time. Hotels should allow for late checkout requests based on availability.
Breakfast for Top Tier Elites
Top tier Concierge members get continental breakfast. And they mean that the member gets it, and it should be continental.
Provide complimentary continental breakfast to Concierge Elite members (in-restaurant at full service hotels)

This free continental breakfast should include only items typically associated with continental breakfasts such as rolls, juice and coffee/ tea. If the guest wants to order additional menu items, charge them only for the additional items.

..This benefit is for the Concierge member only and does not include other room occupants
Hotel owners get comped Concierge status.
Read the Whole Thing
There's more, of course, like details on Gold and Concierge-level elite welcome gifts; how the Gold and Concierge guaranteed availability works; and what hotels pay to issue miles with each airline (section 8.3, p. 102).
---